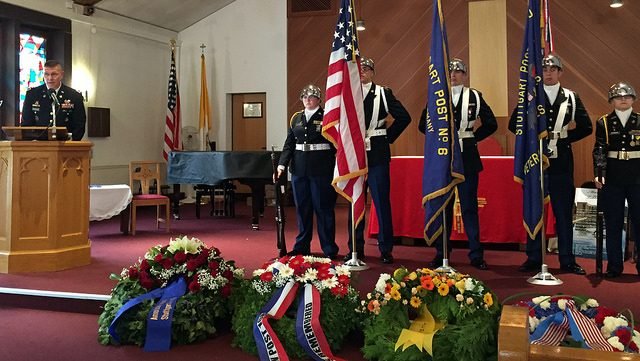 By Holly DeCarlo-White
USAG Stuttgart Public Affairs Office
U.S. Army Garrison Stuttgart held a Memorial Day Ceremony hosted by the American Legion Stuttgart Post 6, May 30 at the Patch Chapel on Patch Barracks in Stuttgart-Vaihingen.
"Memorial Day is a day of solemn mourning, but it is also a day of reverent celebration–a celebration of men and women who dared all, who gave all, so that we might continue to enjoy the freedoms and benefits of this great nation," said Col. Glenn K. Dickenson, U.S. Army Garrison Stuttgart commander.
The Stuttgart High School Junior Reserve Officer Training Corps (JROTC) color guard participated in the ceremony to post the colors, followed by the playing of the National Anthem.
Wreaths were placed in remembrance of the fallen by the American Legion Stuttgart Post 6, Veterans of Foreign Wars Post 10810, Association of the United States Army (AUSA). and the Stuttgart Clan of Motorcycle Enthusiast.
Joe Holder, senior vice commander of VFW Post 10810 in Stuttgart, closed the ceremony quoting General of the Armies, General John J. Pershing, "Time will not dim the glory of their deeds."
The ceremony concluded with the Playing of Taps and a benediction by Chaplain (Lt. Col.) Peter Ferris.
To view photos from USAG Stuttgart's Memorial Day Ceremony, click here.
Freedom is not Free
by Ashley Persyn
There is a price we pay for freedom
For it is not truly free
But rather paid for by the contributions of veterans
To buy our liberty
As their blood drains from their body and runs like a river through the grass
Over the years it's forgotten, war is placed in our past
I don't think we all realize the importance veterans play
as they voluntarily serve America each and every day
We should honor the veterans for they act like a shield
Protecting us from danger, keeping America healed.
So if you would take a second to commemorate
You will instantly see
We owe veterans our gratitude
For they are the reason we are free