Holly DeCarlo-White
USAG Stuttgart Public Affairs
A new community center on Robinson Barracks, the RB Zentrum or the RBZ, opened its doors to Stuttgart military community members for the first time, Nov. 13.
RBZ is a space where community members and non-profit organizations can hold activities that are open to all members of the Stuttgart military community. As RB is primarily a residential installation, residents often must travel to other installations to receive garrison services or to participate in classes and activities. The new center will provide a location for activities to be held closer to home for residents.
A unique factor, in comparison to other Army garrison community centers run by Family and Morale, Welfare and Recreation, is the space and schedule of activities is maintained entirely by registered community volunteers.
The idea to explore this volunteer concept and to revamp the space, previously used at the RB Bar which closed earlier this year, was the brainchild of Heidi Malarchik, deputy to the commander, U.S. Army Garrison Stuttgart,  following a RB town hall in April. During the town hall, community members discussed their concerns about the lack of free space available to them for community meet-ups, playgroups, classes and support group meetings outside of their own homes. Representatives from non-profit private organizations such as the Boy Scouts and the Stuttgart USO chimed in stating they, too, could benefit from a space like this on RB.
"People needed a place to go outside of their homes, a place to make casual new friends or a place to meet for yarn clubs and book clubs … a place that the community could call their own," said Heather Hustwit, RB resident and RBZ volunteer.
Malarchik organized a meeting with community members and key personnel to discuss turning the space over to volunteers as a solution, and as a new concept for a community center in Stuttgart. Army Community Service created position descriptions for which community members could apply to be a part of a new RB volunteer committee charged with running the space.
"[At the meeting] I felt inspired and motivated to make this plan become a successful reality, and applied for a position to be on the team right away," said Sabrina Wilson, RB resident and volunteer. "We as a community have been asking for something like this and the garrison listened and helped us make this an amazing space for our community."
"We home-school, so making friends is even harder," said Leslie Watson, RB resident and volunteer. "When the community came together to have a meeting about creating a community space for RB, I knew that I just had to be involved; all sorts of community based ideas came to mind."
The positions posted through Army One Source online were filled quickly. The committee is made up of four main positions handling facility operations, logistics and hospitality, event management, and publicity. The volunteers promptly began work  to paint, repair and furnish the space.
Wilson thanked the garrison for listening to the RB community and stated that through the hard work of these volunteers and support from the garrison command, Directorate of Public Works Installation Coordinator Ernest Epps, ACS, Headquarters and Headquarters Company, the garrison Public Affairs Office and the Stuttgart Community Spouses Club, just four months later, RB Zentrum is now open for use.
"It's an awesome community, it is a place where everyone comes together," Malarchik said. "I am really proud of the fact that you have come together as a caring community to make this a true home town … a place where people can say, I'm glad I live here."
Organizations interested in scheduling an activity at the RBZ can email rbzentrum168@gmail.com. The monthly schedule of events is posted at the center in Bldg. 168, online at stuttgartcitizen.com and on "RB Friends," the RB community's unofficial Facebook group page.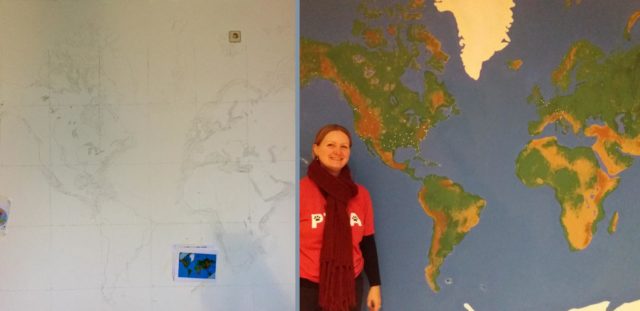 "The RBZ is important to our community and residents for many reasons. We wanted to provide a safe welcoming space that we as a community can utilize. Being stationed here in Germany can be a wonderful opportunity – yet, it can also be very isolating and lonely at times. To have a place where we can engage others and encourage a sense of community is so important," Wilson said.
Rebekah Simmers lives off-post but says she considers RB her family's home base. "Having a place available like the RBZ, where the community can get together, will be a huge saving grace to those on RB and those off base who consider it their home base like we do. The simple fact that you have somewhere to go and connect with others – either for a cup of coffee, to chat, or for some group activity – will make the experience here so much better – for adults and for the kids. People need people…the RBZ will be a great source of support and a platform for that," Simmers said.
"It's been a long time coming, but with the community behind it, I think RBZ will be a great success," Hustwit said. "RBZ offers us a place where everyone is welcome. We hope to host community groups and coffee talks; newcomers meetings and fun events open to everyone. We want to create a space where people feel engaged and welcome, new and established, young and old," Hustwit said.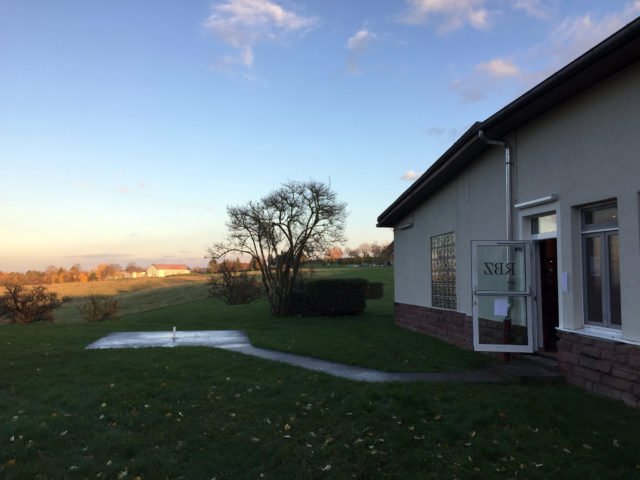 Following the grand opening, the annual community Lantern Walk departed RBZ, and paraded throughout the installation. View the Photo Album.