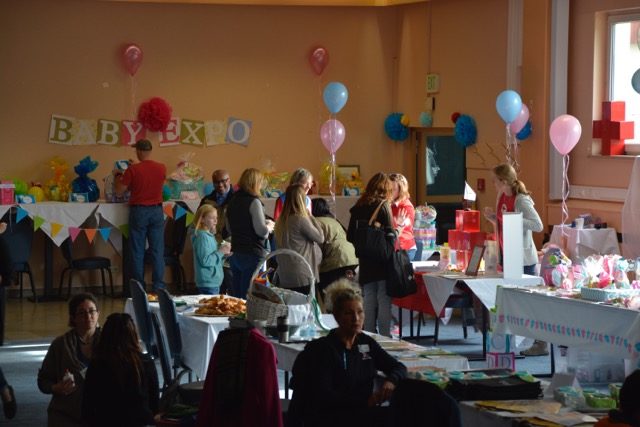 Story and photos by John Reese
USAG Stuttgart Public Affairs
Newborns, toddlers and mothers-to-be gathered at the Patch Barracks Community Club, Nov. 4, for the American Red Cross' second Baby Expo.
"Good team, good turnout," said Jason Kalinowski, ARC, Stuttgart Station, noting Nov. 4 was a busy Saturday with multiple activities taking place around the garrison competing for attention. "We had a lot of great support from all of the organizations on the garrison."
The expo featured the many services available, on or off post, for mothers and newborn care.  Participants included garrison organizations such as the Stuttgart Health Clinic; Passport Office; the USO; and various Family & Morale, Welfare and Recreation offices such as Child and Youth Services and Army Substance Abuse Program were on hand to explain what they can do for families.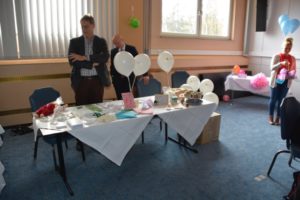 Off-post medical organizations such as Klinikverbund Südwest, a municipal healthcare group in Sindelfingen, made presentations, while other groups offered information or classes. Babywelt, a private company that was unable to attend at the last moment, nevertheless donated 25 gift bags for new mothers. Additional information about dietary and wellness needs, financial planning, emotional needs and more was found on the 20 different organization tables.
In addition to the groups, infant CPR classes and a baby race took place.
"The first mother to "Lion King" pose is the winner," said Nicola Brady, public relations, ARC and event emcee.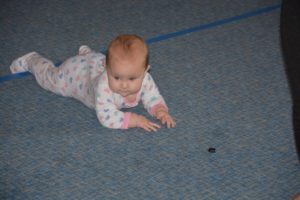 One little racer who had already learned to walk suddenly standing and zooming ahead of the competition.
"This Baby Expo is all about resiliency and an opportunity for the garrison to provide information and assistance to young families," Kalinowski said. "If you're thinking about having a family, or surprise! – you're going to be a parent – this expo can make your life in Germany a lot easier.
Last year the ARC sought an opportunity to do more outreach into the Stuttgart military community, and the Baby Expo was one of the ideas, Kalinowski explained.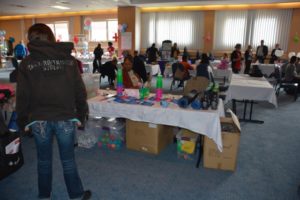 "It turned out to be a huge success last year and we recreated that same synergy this year," he said.
Kalinowski said the feedback from participants was questions like: "How often do you have these Baby Expos?" and "How can I participate in the Red Cross?"
"The Red Cross is all about resiliency, whether it's our life saving opportunities or providing situational awareness to the community," Kalinowski said.
(Editor's note: No federal endorsement of private organizations is implied.)