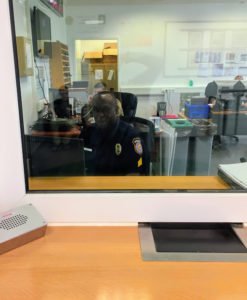 By Holly DeCarlo-White
USAG Stuttgart Public Affairs
There has been a lot of moving going on at the garrison command building in Stuttgart.
To make services and communication more efficient, the garrison initiated a plan in 2016 to continue collocating and re-evaluating base operations and support service offices. Consolidation of personnel within each directorate, to include S-3/5/7 plans and operations offices, Public Affairs, Directorate of Human Resources, Safety and Security offices, were among the first to make moves in May.
The largest move collocated the Military Police Desk, Fire Dispatch and Installation Operations Center to the main floor of the garrison command (Bldg. 2949) on Panzer Kaserne. The new MP Desk and physical security service offices officially opened Aug. 9.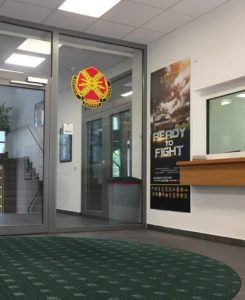 "This creates a true COOP (Continuity of Operations) site that has full capabilities to execute the mission in the event a catastrophic event or failure occur. The MP desk will have all communication and alarm receiving capabilities to stand up almost immediately if needed," said Shane J. Crutcher, deputy director of Emergency Services, U.S. Army Garrison Stuttgart.
Crutcher continued stating that having DES closer to the garrison command group would expedite and streamline the exchange of information where physical security and force protection are concerned. It improves information sharing with host nation partners as well.
"It truly becomes a single place of contact for our host nation partners to reach out to get critical information during emergencies," Crutcher said.  "This keeps everyone on the same message and reduces response times to all incidents across the footprint. It will also reduce false calls, as all parties can put together a collected information pool to have a better sight of what is happening during each incident."
The non-emergency contact telephone numbers for the MP Desk remain the same as they were on Patch Barracks, DSN: 430-5261/2 or civ. 0711-680-5262.
One service change for community members to know is ESSO Fuel Card processing for rental vehicles is no longer conducted on Patch Barracks. Personnel needing an ESSO fuel card for a rental vehicle must go to the Customs Office on Panzer Kaserne in Bldg. 2913. The MP Desk will only process fuel cards after hours from Friday at 6 p.m. to Sunday at 11:59 p.m.
To accommodate MP vehicle parking, changes are now in effect around Bldg. 2949 on Panzer Kaserne. New signs for DES/MP vehicles and limited time parking are in place on all sides of the building. Customers should ensure the blue parking disc is placed on the dash in their vehicle to avoid receiving a ticket when parking in these 1-2 hour only parking spaces.
In the future, the relocation of the Fire Department from Stuttgart Army Air Field to the Panzer Community Club (where it once was years ago) is also in the plan to be done as soon as possible. DES estimates this will decrease response times to Patch Barracks and Panzer Kaserne, where the majority of calls come from, in the event of an incident. The Department of Defense required fire department response time is 7 minutes.
Learn more about the host nation emergency response times by installation at: https://www.stuttgartcitizen.com/featured-stories/emergency-response-timing-stuttgart
Full List of Office Moves:
Security Office/Finger Printing etc. – Bldg. 2948, 3rd Floor; check-in at Rm. 301, Panzer Kaserne
Safety Office – Bldg. 2307, Patch Barracks
Directorate of Human Resources/ Military Personnel Division – Bldg. 2915 2nd Floor, Panzer Kaserne
Directorate of Emergency Service – Bldg. 2949, Panzer Kaserne
S-3/5/7 moved from Floor 1 to 3 in Bldg. 2949, Panzer Kaserne
Antiterrorism and Physical Security moved from Floor 1 to the basement of Bldg. 2949, Panzer Kaserne