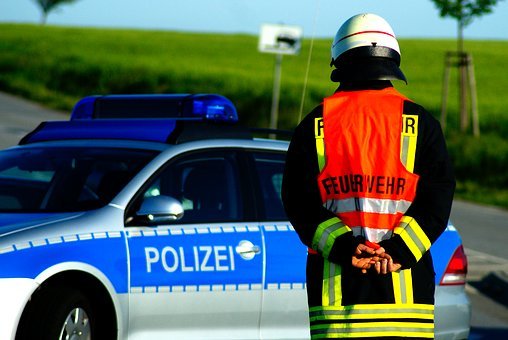 UPDATE, March 6, 2019: The links to ACS and the American Red Cross were updated.
By Holly DeCarlo-White
USAG Stuttgart Public Affairs
The time necessary for local fire and medical personnel to respond to calls from the Stuttgart military community's five geographically dispersed installations is a frequently asked question by community members.
The City of Stuttgart mandates a 12-minute response time for the first fire and technical emergency vehicle to arrive once a call is received. The ambulance and emergency medical service (EMS) has a different guideline to respond in 15 minutes within Baden-Württemberg.
There are several factors that may increase the response time throughout the Stuttgart area from traffic, to prioritizing the severity of the call if there are multiple emergencies occurring in the same time-frame. Response time is an ongoing discussion with local officials, according to Chief Karl Dörsam, USAG Stuttgart Fire Department.
According to statistics provided by USAG Stuttgart's Fire Department from host nation emergency response partners, from the time when the call is received at the control center until the EMS unit arrives, the goal is a 95 percent success rate to uphold the mandated response times. Within the City of Stuttgart, response time for emergency physicians is at 95 percent and for ambulances it is 94 percent; for the Böblingen area, responses fall at 92 percent for ambulances and 88.5 percent for emergency physicians.
The Fire-Rescue-EMS quick-dial number for all installations is 112. However, Dörsam advises community members to be aware of the actual phone system used. For instance, 112 dialed from DSN-net connects to the USAG Stuttgart Fire Control Center, 112 dialed from a civilian landline or cell phone connects to the respective host nation operations control centers (listed below). To reach USAG Stuttgart's Fire Control, people must dial the full civilian emergency phone number 0711-680-112.
Except for Robinson Barracks, all Stuttgart installations rely on the USAG Stuttgart Fire Dept. for first response. Upon receipt of the situational report, additional host nation assets will be requested for support immediately or simultaneously.
USAG Stuttgart hosts annual force protection seminars to personally connect with host nation first responders who serve the military community.
Response by installation area:

Patch, Kelley & Robinson Barracks: City of Stuttgart
112 will be answered by SIMOS, the city's centralized emergency operations center.
The response times and providers are the same for Patch, Kelley and Robinson Barracks. Response forces are the City Fire Department and the EMS providers: German Red Cross (Deutsches Rotes Kreuz DRK), Maltese Order (Malteser-Hilfsdienst MHD), St. John Ambulance (Johanniter Unfallhilfe JUH), Workers Samaritarian Association (Arbeiter-Samariter-Bund ASB), and the Water Rescue Company (Deutsche Lebens-Rettungs Gesellschaft DLRG).
Panzer Kaserne (and surrounding areas Sindelfingen, Leonberg, etc.): Böblingen County
112 calls are answered by the Böblingen County Joint Control Center, located at the Böblingen Fire Station.
Panzer-Kaserne lies within the jurisdiction of Böblingen County and Böblingen City. Unlike the City of Stuttgart, Böblingen, as well as the Esslingen and Ludwigsburg Counties, do not have response time levels mandated by the city or county councils. They follow the State of Baden-Wuerttemberg guidelines.
For technical emergencies or fire, rescue, accidents and hazardous materials, the response time is 12 minutes for the first unit (one engine with nine firefighters) and 17 minutes for a full response of all necessary personnel.
For medical emergencies, the response time is 15 minutes for the first advanced life support ambulance and physician, with two minutes for dispatch and 10-13 minutes for units to prepare and travel to the scene.
If host nation assets are requested for support, response forces are response units from Böblingen and Sindelfingen. Böblingen and Sindelfingen have a small career firefighter unit that augments each other and is available during normal business hours. Additionally, Böblingen, and Sindelfingen have volunteer units from in Böblingen County communities, including Leonberg.
Stuttgart Army Air Field (SAAF) (and surrounding areas Filderstadt, Leinfelden-Echterdingen, etc.): Esslingen County
112 calls are answered by the Esslingen County Joint Control Center, located at the Esslingen Fire Station. Response time criteria is the same as for the Böblingen area.
Stuttgart Golf Course in Kornwestheim (and surrounding areas Pattonville, Ludwigsburg)
112 calls are answered by the Ludwigsburg County Joint Control Center. Response time criteria is the same as for the Böblingen area. The first responding unit is the Kornwestheim Volunteer Fire Department, for EMS, the Deutsches Rotes Kreuz DRK or Workers Samaritarian Association (Arbeiter-Samariter-Bund ASB).
Be prepared
Army Community Service offers free classes and in-home safety checks through the New Parent Support Program. Individualized home visitation services can also occur in an office, hospital or community setting. Services are also available outside normal duties hours so working parents can participate. Each NPSP home visitor has a master's degree in social work or a Bachelor of Science in Nursing and is licensed to practice clinical social work, marriage and family therapy, or nursing in a U.S. state.
The American Red Cross Stuttgart Station offers CPR classes for adults and children, and babysitter training courses. Classes fill up fast, call 07031 152812 to register.