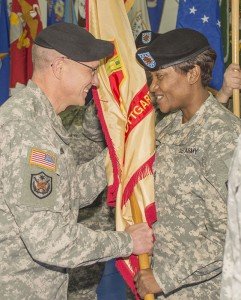 Story and photos by Greg Jones
Col. Glenn K. Dickenson assumed command of USAG Stuttgart from Col. John P. Stack in a ceremony at Patch fitness Center Feb. 27.
Installation Management Command-Europe director, Michael D. Formica officiated the ceremony, which included the traditional passing of the colors. The ceremony also included rendering of honors for the official party, a color guard, and comments by both incoming and outgoing commanders as well as the officiating officer.
Dickenson, a military intelligence officer, comes to USAG Stuttgart from the Department of the Army G-2, where he served as the chief of current operations.
"As I stand here this morning I am humbled, honored and awe-struck at the opportunity to lead the vast collection of talent that makes up U.S. Army Garrison Stuttgart," said Dickenson, who closed his comments with the traditional words of a new commander. "All current policies remain in effect."
Stack, who commanded USAG Stuttgart for about three years, leaves for Fort Bragg where he will deploy to the Central Command area of operations. During Stack's tenure, the Garrison won IMCOM's most improved garrison and implemented a number of initiatives such as an aggressive water and energy efficiency program that generated almost $2 million in cost savings, and major efforts to improve quality of life for the assigned personnel.
Despite the accomplishments of the Garrison under Stack's tenure, according to Stack, it is the community he will remember and miss the most.
"It's not the on-post facilities, or the great sites and communities outside the gate that have made this a great assignment," he said. "It's simply the people that make up this community. From our host nation neighbors and friends, to the service members, civilians and families of this joint community, to the hard-working Garrison workforce; it's all of you who have made this such a great assignment."