By Becca Castellano
US Army Garrison Stuttgart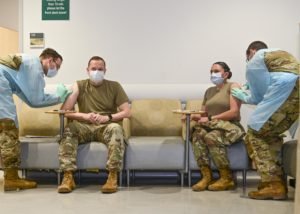 The COVID-19 vaccination arrived in Europe and was administered at U.S. Army Garrison Stuttgart Thursday, Dec. 31. U.S. Army Health Clinic Stuttgart commander, Lt. Col. Maria Bruton, and Director of Emergency Services, Lt. Col. Adam Cronkhite, received the first dose of the two-part Moderna vaccine.
Bruton said she volunteered to receive the vaccine first to show that as leader of the health clinic, she believes it is safe and it is a positive step forward for the Stuttgart military community.
"I know a lot of people are unsure about getting the vaccine because it is new and production happened relatively quickly, but that does not mean corners were cut," Bruton said. "Experts came together and dedicated resources, personnel and man hours to get this life-saving mission accomplished."
The clinic staff will roll out the vaccine to the Stuttgart military community in accordance with the Department of Defense's COVID-19 Vaccine Distribution plan, which uses a tiered structure to prioritize key groups, like health care workers, emergency services and high-risk populations, first. Bruton said the clinic will keep the community updated as they move through the tiers.
"It's emergency-use approval only right now and not mandatory for anyone," said Bruton, who explained how the vaccine works. "It builds your immunity against the virus so that if you do contract it, your body can recognize it and combat it faster. Ideally you shouldn't get sick at all, but if you do, the symptoms should be far fewer and less severe."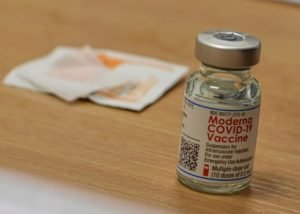 The Moderna vaccine requires a second dose 28 days after receiving the first dose. Moderna is the second vaccine to receive emergency-use approval by the Food and Drug Administration. It was chosen by the DOD for overseas locations because of its ability to be transported and stored at higher temperatures. The first vaccine, developed by Pfizer-BioNTech, must be shipped and stored in an ultra-cold freezer.
All DOD personnel who elect to receive the vaccine will be monitored to ensure the booster is administered on time.
As a first responder and Army leader, Cronkhite said he received the vaccine because he wanted to do his part to protect the Stuttgart military community.
"It's important that I show my emergency services team that I would not ask them to do anything that I'm not willing to do myself," Cronkhite said. "And anything I can do to prevent the spread of the virus is important to me."
Several other health care workers and first responders received their first dose of the Moderna vaccine after Cronkhite and Bruton. Both leaders said it was a great end to a challenging year for their teams.
"We've been dealing with this pandemic for almost 10 months now," Bruton said. "This is a positive sign that we will eventually reach the other side."