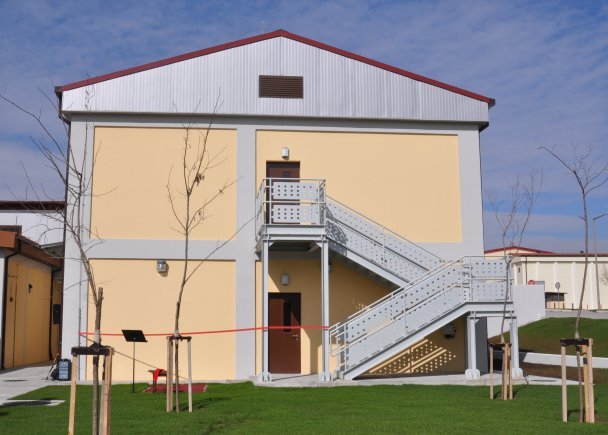 By Jennifer Aldridge
U.S. Army Corps of Engineers Europe District Public Affairs
U.S. Army Corps of Engineers Europe District is celebrating sustainable building achievements across the U.S. military footprint in Europe.
Located about 1,600 miles apart, in Turkey and Germany, two projects executed by the district earned Leadership in Energy and Environmental Design Silver certification this spring.
LEED IN TURKEY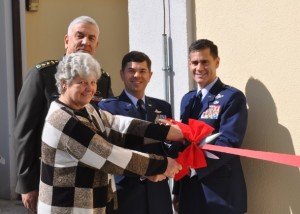 The Ankara Administrative Facility, a $1.3 million, 15,700-square-foot building, houses the legal, traffic management and post offices serving Incirlik Air Base personnel and their dependents. The building officially opened March 26 and is the first LEED-certified U.S. government facility in Turkey.
It is recognized as a "showcase of sustainable design" by U.S. Green Building Council officials and meets the Department of Defense requirement of LEED-Silver certification, or an equivalent "green" building rating for new construction worldwide.
Volkan Tunay, a project engineer in Europe District's TUSEG Resident Office and a Turkish local national, didn't know much about LEED before he was assigned to work on the Ankara facility.
"LEED is a really new thing for the Turkish construction industry," he said. "Working on a USACE LEED project was exciting for me. I would have never been interested in it if it wasn't for this project."
As soon as the construction contract was awarded, the team looked at all the LEED credits required to earn certification, Tunay said.
"We determined how to gain points from demolition, excavation and salvaging scrap," he said. "In the field, we enforced the LEED guidelines to the contractor. We oversaw the segregating of demolition materials — steel and concrete — and their delivery to separate recycling centers in Ankara."
It was critical to incorporate LEED elements during the design phase, Tunay said.
"If we missed credits during design, there was no way to go back and make them up," he said.
Upon certification, the project earned 53 of 59 possible LEED-Silver points. Some of the sustainable features include: installation of materials with high recycled-content value and extra-thick building insulation; application of indoor air-quality management, and erosion and sediment control plans; use of low-volatile, organic-compounds paint, coatings, adhesives and sealants; and installation of landscaping that does not require a permanent irrigation system.
An administrative building is a good candidate for LEED certification, said Rich Gifaldi, the district's sustainability engineering manager and LEED-accredited professional.
"We are looking at creating an indoor environment that fosters a healthy workplace and really encourages productivity," he said. "With a rating system like LEED, we can do that."
In Turkey, a characteristically warm and dry country, this building will use more cooling compared to a similar structure in Germany, Gifaldi said.
"The increased ventilation system will take in fresh air from outside and pass it through a number of filters and then cool it before it gets to the occupants," he said. "If it's dusty outside, for example, you really don't want to open the window to get fresh air; you would rather pass the air through some filters and clean it a bit."
Working through the LEED-certification process, waste management, local material use and water conservation were critical to building a sustainable, energy-efficient facility, Gifaldi said.
For instance, more than 40 percent of this project's construction materials were manufactured or harvested within 500 miles of the project site – supporting the local economy. In addition, more than 97 percent its construction waste was diverted from a landfill and the building is expected to use 57 percent less water than a similar facility, according to LEED-certification documents.
Today, sustainable building is critical in Turkey because the country is running out of energy, Tunay said.
"Everything is about reducing energy consumption," he said. "To be able to manage the enormous energy needs these days, we have to come up with smart solutions to reduce consumption of natural resources. This way, we can all live in a better world."
LEED IN GERMANY
In April, Europe District earned its first LEED-Silver certification for a U.S. forces project in Germany executed through the indirect-contracting process. Construction of U.S. Africa Command's administrative facility on Kelley Barracks was managed by the Baden-Wuerttemberg Bauamt, the district's German construction-management counterpart. The $7.2 million project was also the first on U.S. Army Garrison Stuttgart to be LEED certified through the district.
While the bauamt executes many projects for Europe District in Stuttgart, this was the first LEED project it worked on, said Hoang Hintzsche, a bauamt project manager.
"We worked very closely to reach all of the credit points," she said. "We looked at products we could use to get more points, we planned parking spots in front of the building for electric cars to plug in and charge, and we gained points for buildings near the project with bathrooms and showers available for bike and pedestrian commuters."
Gifaldi said the district has many LEED projects in progress with the bauamt, but this is the first to be completed.
"It has been five years in the making," he said.
The newly renovated administrative facility, believed to have been constructed in the 1930s and used by the German military, is a historic building.
Through the renovation, the contractor was able to maintain the historic façade and appearance while completely changing the inside, Gifaldi said.
"Renovation projects are typically more challenging than new construction," he said. "This is a good example of what we thought we could do, and we actually did it."
The facility was designed and constructed to use 64 percent less energy than a similar building with an anticipated energy savings of $60,000 per year. In addition, it is expected to use 44 percent less water due to the installation of waterless urinals, high-efficiency toilets and low-flow faucets — with an anticipated $5,000-per-year savings in water and sewage costs, according to LEED-certification documents.
Due to mission requirements, the building uses a larger amount of energy than other facilities on base, Gifaldi said.
"So we have to make sure the cooling and the heating are functioning correctly," he said. "Through the application of enhanced commissioning, an agent is reviewing these systems during design, construction and even after construction to ensure all of the equipment is working as it has been designed to work."
Typically, when a project is complete and the warranty expires, it is difficult to get a contractor back to fix things, Gifaldi said.
"During enhanced commissioning, someone is keeping track of things on a technical level in a more tangible way than, 'Hey, my office is cold.' It ensures contractor accountability," he said.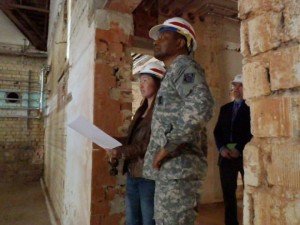 MORE LEED SILVER AHEAD
In addition to the facilities in Ankara and Stuttgart, Europe District is set to earn LEED-Silver certification for three more projects in 2015, including: the Consolidated Community Center at Incirlik Air Base; the Stuttgart Elementary and High schools in Boeblingen; and a warehouse facility at McCully Barracks in Wackernheim.
Being located in Europe, engineers take it for granted that the district is doing so many things in so many different countries, Gifaldi said.
"In the U.S., a similar district would probably get excited if they certified a project in a new state, where the standards are somewhat similar. In Europe, we are actually certifying projects in various countries where the standards, culture and local practices are drastically different," he said.