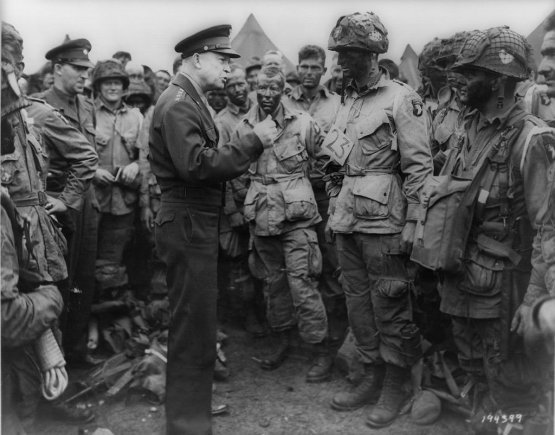 By U.S. Army Europe
On June 8, 1942 the War Department officially established the European Theater of Operations, U.S. Army, or ETOUSA (not to be confused with the joint U.S. European Command of today). Its mission was to conduct planning for the eventual retaking of Europe and to exercise operational control over U.S. forces.
Headquartered in London, ETOUSA was first commanded by Maj. Gen. James E. Chaney, an Army Air Corps officer. Then-Maj. Gen. Dwight D. Eisenhower replaced Chaney in late June, but the following month he departed England to assume new duties as the commander-in-chief of Operation Torch, the successful Allied invasion of North Africa. Eisenhower returned in January 1944 and the following month was officially designated as the Supreme Allied Commander Europe. He also maintained his leadership of ETOUSA, serving in a dual role until the end of hostilities in Europe in May 1945.
When the war ended in Europe on May 8, 1945, the ETOUSA headquarters was located in Versailles, France, just outside Paris. As Eisenhower and his staff began to prepare for the occupation of Germany, the ETOUSA headquarters staff moved to Frankfurt, Germany, and co-located with the Supreme Headquarters Allied Expeditionary Forces and the Office of Military Government, United States.
Check in weekly for new stories and photos at www.eur.army.mil/75. Follow in social media with #75Strong.