By Terri Moon Cronk
DoD News, Defense Media Activity
Military exercises are underway between U.S. military forces and those of many other nations, Pentagon spokesman Navy Capt. Jeff Davis, told reporters July 17, in Washington D.C.
Africa Exercises
In Africa, The U.S. military, in partnership with the South African military, will conduct Shared Accord 2017, a command post exercise and field training exercise at South Africa's combat training center. It began today and runs to Aug. 3.
"Shared Accord 2017 is an annual, combined, joint military exercise that brings together U.S. forces and partner nations to foster security cooperation while improving operational planning and mission command capabilities," Davis said.
"Shared Accord promotes regional relationships, increases capacity, trains U.S. and South African forces, and furthers cross training and interoperability," he added.
The exercise will provide participating military forces the skills required to enable readiness in support of peacekeeping operations, Davis said, noting that the U.S. military is getting valuable training as well, in areas such as planning for peace support operations, combined command and expeditionary operations.
United Kingdom – Royal International Air Tattoo
In the United Kingdom over the weekend, U.S. airmen and sailors participated in flying demonstrations and static displays for the Royal International Air Tattoo at Royal Air Force Fairford.
"U.S. participation in RIAT highlighted the strength of the U.S. commitment to European security, the NATO alliance, our ever-strong alliance with U.K., and demonstrates interoperability with allies and partners from around the world," Davis said.
This year's airshow also was designated as a commemoration for the U.S. Air Force's 70th birthday by U.S. Air Forces in Europe with the theme "American Airmen: Breaking Barriers since 1947."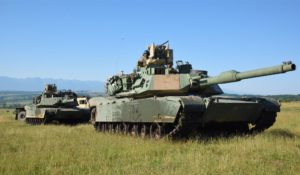 Europe Exercises
Exercise Saber Guardian 17, a U.S. Army Europe-led multinational exercise, is nearing completion in Bulgaria, Hungary and Romania. The exercise began July 11 and will end July 20. Saber Guardian 17 is larger in both scale and scope over previous iterations, Davis said. About 25,000 service members from 22 allied and partner nations are taking part, he added, and the exercise highlights participant deterrence capabilities — specifically, the ability to mass forces at any given time anywhere in Europe.
Davis also highlighted several enabling and integrated exercises:
— Tobruq Legacy 2017, a U.S.-led air defense artillery exercise July 12-22 at several Czech Republic, Lithuanian and Romanian locations;
— Swift Response 2017, a U.S.-led, airborne exercise involving the 173rd Infantry Brigade Combat Team at several Bulgarian, Hungarian and Romanian locations July 13-23; and
— Sea Breeze 2017, a U.S. Naval Forces Europe-led multinational exercise in the Black Sea supporting NATO's Partnership for Peace initiative, July 11-21;
Allied and partner exercises involving about 40,000 personnel from 30 nations comprise the Black Sea Region Exercises for 2017, with Saber Guardian 17 being the largest, Davis said. While each is separate and distinct, the exercises as a whole demonstrate the commitment of the United States and its allies and partners as well as NATO's superior joint and combined capabilities, and they highlight the collective will to defend against regional aggression, Davis said.