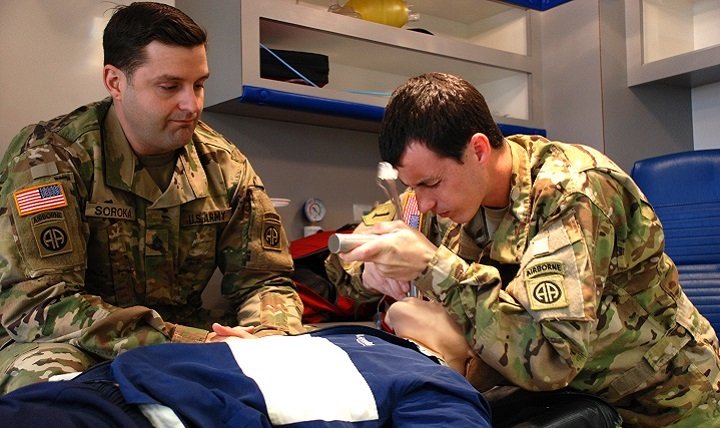 By Terri Moon Cronk
DoD News, Defense Media Activity
Maintaining medical readiness for the nation's fighting force aligns with the military's top readiness priority, the Army, Navy and Air Force surgeons general told a Senate appropriations panel March 9, 2016.
Surgeons general Army Lt. Gen. (Dr.) Nadja Y. West, who is also the commanding general, of U.S. Army Medical Command; Navy Vice Adm. (Dr.) C. Forrest Faison III and Air Force Lt. Gen. (Dr.) Mark A. Ediger described how they are maintaining medical readiness for the force of the future in budget request hearing for defense health.
Army medicine's priority of readiness and health is a direct reflection of the service's top readiness posture, West said. "We see readiness and health as closely coupled," she added.
Combined Army, Navy and Air Force medicine comprises a joint medical force without peer, West said.
Meeting future challenges
"The Army continues to be the nation's premier expeditionary medical force [to meet] the challenges of a complex world" by remaining globally engaged, regionally aligned and surge ready to face the ever-changing challenges of tomorrow, the Army surgeon general said.
Army medicine must also continue to ensure its beneficiaries have access to high-quality and safe health care, West said. "As we look for ways to continue to improve how we operate, access to care is a matter for all of us," she said.
With a goal of adding more primary and specialty care appointments in Army medical treatment facilities, West said, she has "directed rapid improvements" for access to care.
"My commitment to our nation, the Army and Congress today is the Army will never be caught unprepared for tomorrow's challenges," West said, emphasizing the importance of force development to better prepare Army medical professionals for the future.
"Army medicine will continue to stand as a unique organization that has the versatility, agility and scale to adapt to the challenges that arise at home or abroad," she said.
Navy medicine is agile
Navy medicine is an agile, rapidly deployable force, and three factors are indisputable, Faison said.
"We have the highest combat survival in recorded history," the Navy's surgeon general said. "Many of our wounded warriors alive today … would have died of their wounds in any previous conflict."
Every wounded warrior who received care from injury on the battlefield to recovery in Navy medical centers did so "completely and exclusively" at the hands of the men and women who received their training, clinical experience and preparation in a military treatment facility, he said.
Faison emphasized the investments made in medical research and development, training, and medical education remain critical to meeting existing and future mission requirements. And U.S. military medical training is among the best in the world, while its global research and development efforts help keep its personnel safe as they counter tomorrow's threats, he added.
But Navy medicine is not a perfect system, and more needs to be done, Faison said.
The services, he added, "are working hard to improve access, care continuity, convenience and satisfaction with the care [military medicine] delivers in peacetime."
Navy medicine is "committed to continuing the necessary reforms which will improve our patients' experiences, and most importantly, their health," Faison said. "However, we must do so without putting at risk the very system which has yielded such unprecedented survival."
Care is key to readiness
The Air Force surgeon general agreed with his colleagues on the importance of military medicine. "The broad scope of care we provide is key to our readiness," Ediger said.
Today, nearly 700 medical airmen and women are deployed to capture lessons learned from their experiences, and that work helps Air Force medical research identify gaps and improvements in its programs, operational procedures and overall readiness, he said.
"As a health system, we know we must continually improve," said Ediger, adding that while progress has been made, Air Force medicine is "focused on improving in areas of quality, safety and access to care."