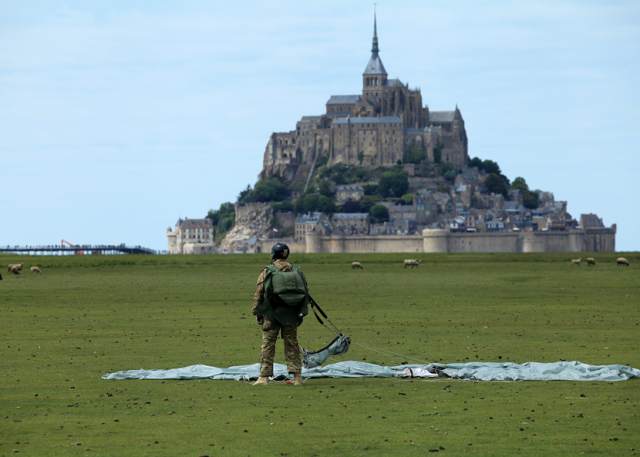 By Maj. Christina R. Hoggatt
352nd Special Operations Wing Public Affairs
In the first events commemorating the 71st anniversary of the liberation of France, Special Operations Command Europe operators performed military free falls into U.N. designated world heritage site Mont Saint-Michel in Normandy, France, and participated in a wreath-laying ceremony at the World War II Pontorson Airfield Memorial May 30-31.
Twenty-six paratroopers from SOCEUR — 13 air commandos from 321st Special Tactics Squadron, Royal Air Force Mildenhall, United Kingdom; and 13 from Stuttgart units: Army 10th Special Forces Group (Airborne); Naval Special Warfare Unit Two; and Special Operations Command Africa — performed the military free falls from 67th Special Operations Squadron MC-130J Commando II aircraft, also from RAF Mildenhall.
"I have been jumping for more than 18 years – this was by far the most memorable jump ever. This is such a unique and special venue and true honor to jump for such a great cause," said U.S. Army Lt. Col. Jack Kredo, SOCEUR commandant and jump mission commander. "This French association honors and remembers liberty, keeping alive and celebrating the assistance Americans provided in World War II. It is a genuine privilege to commemorate the mission that led to the liberation of France from Nazi control."
The jumps at Mont Saint-Michel began in 2009 through Les Amis du Souvenir et de la Liberté (Friends for Remembrance and Liberty). Though no paratroopers jumped into this exact area during World War II, Saint Michael is the patron saint of paratroopers, thereby creating the association between the two and the coordination for the commemoration with SOCEUR.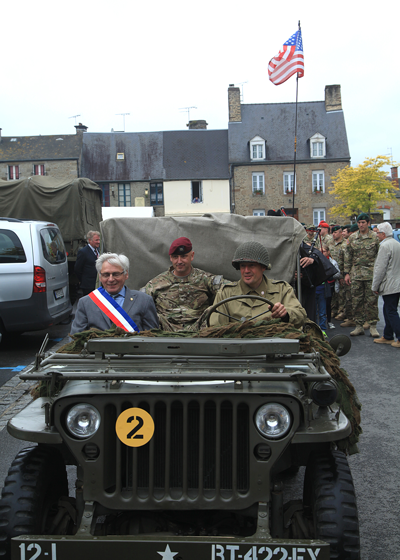 "Commemorating the liberation of France by the allies is very important for the French," said Noel Sarrazin, Les Amis du Souvenir et de la Liberté executive secretary. "Organizing the jumps near the Mont Saint-Michel is a celebration and good occasion to connect our two countries."
Each SOCEUR paratrooper who participated spoke to the beauty and significance of such an opportunity. For one air commando in particular, jumping into one of Normandy's most historic locations held a deep, personal significance because his grandfather is a D-Day veteran. This was his opportunity to remember and honor his family by being part of such remarkable history.
"I am fortunate parachuting is part of my job and it's something I love to do. Few things will ever compare to the opportunity we had today, to jump into France over Mont Saint-Michel to honor the paratroopers who jumped into France during World War II, the ground shaking reception we received from the locals, and the heartfelt appreciation shared by everyone in attendance," said a 321st STS air commando. "I have never experienced anything like this, and am so grateful to be a part of such an honorable event."
The following day the paratroopers took part in a wreath-laying ceremony at the World War II Pontorson Airfield Memorial, a parade with local grade school students, and a mayoral reception at Pontorson City Hall. This was the first time since the liberation in 1945 that American troops were back in Pontorson for an official event.
During the ceremony, Mayor of Pontorson André Denot thanked the American service members for their participation and spoke about the importance of continuing a strong allegiance and partnership, always remembering the importance of freedom. During the reception, Denot presented Kredo with a memento of appreciation.
"It is an extreme honor to be here today, remembering the generations that came before us. This is very important for the current generation in both our countries," Kredo said upon acceptance. "It's always refreshing to see our future generations that will continue moving liberty forward."
These events were precursor to the D-Day commemorative events. The capstone D-Day commemoration will be June 7 with joint partner military free fall and static line jumps at the beaches near Sainte-Mère-Église, Normandy, France.