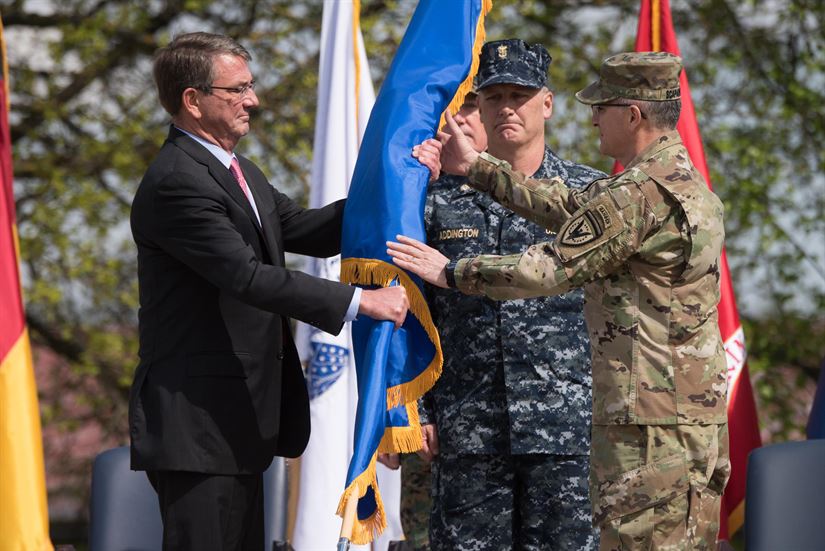 By Lisa Ferdinando DoD News, Defense Media Activity
Army Gen. Curtis M. Scaparrotti took command of
U.S. European Command
, May 3 at a ceremony held on Patch Barracks in Stuttgart, Germany, acknowledging this is a pivotal time for Europe with challenges from Russia, terrorism, and the mass influx of refugees.
Defense Secretary Ash Carter and Marine Corps Gen. Joe Dunford, the chairman of the Joint Chiefs of Staff, presided over the ceremony at Eucom headquarters here, in which Air Force Gen. Philip M. Breedlove relinquished command after three years.
"It is a true honor," said Scaparrotti, who formerly led U.S. Forces Korea. "I am humbled to serve as the European Command commander." But, he said, the security environment is evolving.
"Today, our way of life is at a pivotal moment as we are encountering numerous threats and strategic challenges," Scaparrotti said.
Breedlove, who is retiring after 39 years of service, is also the NATO Supreme Allied Commander Europe. Scaparrotti will assume Breedlove's NATO hat during a change of command ceremony tomorrow.
Extraordinary Leaders
Carter and Dunford praised Breedlove and Scaparrotti as extraordinary generals.
Scaparrotti is "one of the most skillful and accomplished warrior-diplomats," Carter said. Breedlove, he added, leaves behind a NATO that is "stronger than the one he inherited."
Dunford praised Scaparrotti for a "unique expertise in forging teams, maintaining coalitions and advancing alliances."
Russia, Threat of Terrorism, Other Challenges Ahead
The strategic environment in Europe has changed dramatically, Carter said, from the end of World War II, to the end of the Cold War to the complex challenges Europe faces today on its eastern and southern flanks.
"This requires changing how we do things," the secretary said.
Today's security environment underscores the importance of Eucom, Carter noted, as the command plays a critical role in peace and security.
"Whether on the ground in the Balkans; or in the skies over the Baltic; afloat on a Black Sea; helping deliver ISIL a lasting defeat; or enabling NATO's Resolute Support mission in Afghanistan, you're advancing a proud and distinguished tradition here," Carter said of Eucom.
Dunford said the men and women of Eucom are sending a strong message about the enduring U.S. commitment to security in Europe.
Eucom supports missions across the Middle East and Africa and provides critical base and logistic support functions for the fight against ISIL, and providing "the core of our capability in taking the fight to the enemy in the Central and Africa Commands," Dunford said.
Moving Forward
Scaparrotti outlined the challenges in Europe. He pointed to a "resurgent Russia and its aggressive behavior that challenges international norms in Crimea, the Donbas and South Ossetia." He also highlighted the threat of terrorism, and the influx of migrants and refugees that are "challenging the social fabric of Europe."
Eucom, he said, will continue to build on its legacy to deter aggression, deploy forces for contingency operations, be ready to fight should deterrence fail, and strengthen bonds with allies and partners.
Breedlove noted he first came to Europe in 1983, as a captain.
"My career started here in a Cold War trying to keep the peace. I think my career is now ending here trying to prevent a Cold War and continue to keep the peace," he said.
Breedlove said the security environment has changed dramatically in the three years he's commanded Eucom. Yet, whatever the challenge, the men and women of Eucom were ready, he said.
"This command has answered the call," Breedlove said.