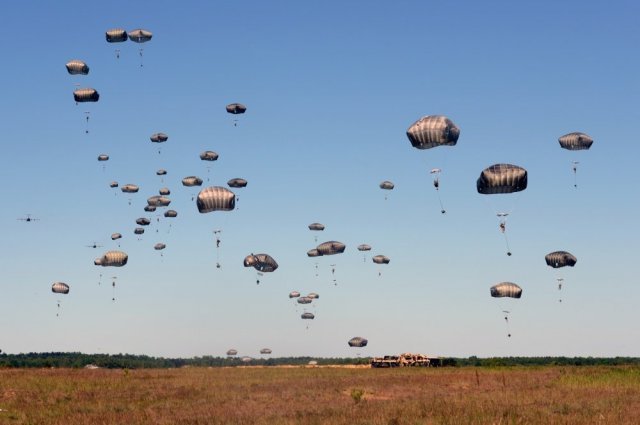 Story and photos by Senior Airman Larissa Greatwood
86th Airlift Wing Public Affairs
More than 5,000 military members from 10 NATO countries participated in this year's Swift Response training exercise from May 27 through June 26.
Swift Response is a joint, multinational exercise designed to train the U.S. global response force alongside high-readiness forces from Belgium, France, Germany, Italy, the Netherlands, Poland, Portugal, Spain and the United Kingdom.
"This exercise is the premier military crisis response training event for multinational airborne forces," said Col. Brandon Hileman, 86th Airlift Wing vice commander. "It allows us the opportunity to train like we fight and practice with allies and multiple U.S. Army and Air Force units. During Swift Response 16, all units will be working together to enable multiple simultaneous airborne operations."
Training opportunities such as Swift Response enable allied nations to strengthen partnerships and practice interoperability for real-world emergencies.
"It enables us to think and fight as a team when lives are on the line," Hileman said. "Speed and responsiveness are hallmarks of NATO militaries, and the U.S. Air Force prides itself on getting around the world as fast as possible. By rehearsing military maneuvers with our allies, we can guarantee speed during a real-life crisis or dynamic situation. This interoperability is key on so many levels and instrumental in keeping our Airmen sharp and proficient."
Hileman stated that the combined capabilities allied nations have are crucial to success during training and real-world situations.
"Today's challenges cannot be confronted alone," Hileman said. "Exercises like this allow us the opportunity to connect in all manners to create stronger, more capable forces to ensure European and global security. It allows us to enhance our teamwork with NATO members and partner nations and also to demonstrate the speed with which we can all respond to crises around the world."
Read the original full article at www.kaiserslauternamerican.com.
View more photos at: https://www.dvidshub.net/image/2643321/swift-response-2016.