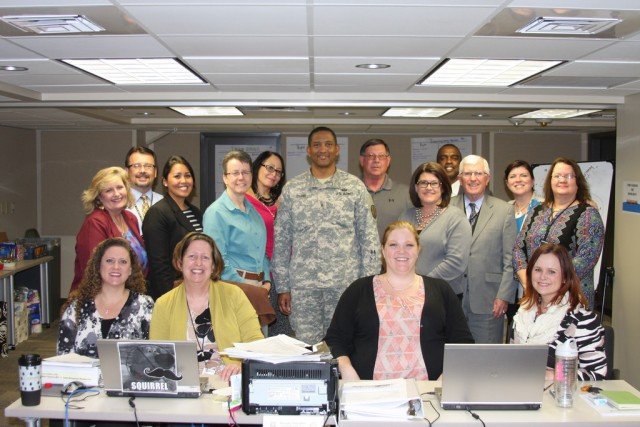 By Amanda Kraus Rodriguez
U.S. Army Installation Management Command
The newly developed U.S. Army Installation Management Command Strategic Human Capital Plan lays groundwork for re-shaping its workforce and culture to answer the future needs of the Army, provide premier installation management and become one of the premier federal workplaces by the year 2025.
Lt. Gen. David Halverson, commander of the U.S. Army Installation Management Command, approved the SHCP, the first plan of its kind, Jan. 29 with eyes on both today's challenges and tomorrow's installation workforce needs.
"We have to adapt ourselves," Halverson said. "The old ways of doing business no longer apply."
The plan is a critical first step in the "IMCOM 2025 and Beyond" strategic design and its development was complex. IMCOM's workforce includes over 54,916 civilian employees, in 329 different occupational series, spanning 31 Army career programs global-wide. A new approach was required to include everyone – appropriated fund, local national, and non-appropriated fund employees, according to Brian Gormley, SHCP project lead.
"We formed a tiger team of your peers," Gormley said, "a multi-disciplined team that represented all of IMCOM's functional responsibilities, from all regions and garrisons, to develop and publish IMCOM's first ever Strategic Human Capital Plan."
The team started with an assessment of the command, identifying opportunities for improvement using standards published by the Office of Personnel Management and the Government Accountability Office, along with employee feedback.
"We want employees to know that meaningful cultural change is coming," said Lois Keith, Civilian Personnel Chief of IMCOM. "It's important that the workforce knows that this is a group effort – a transparent data driven, fact based process. Through the Federal Employee View Point Survey, employees have a voice. They spoke and we listened."
Included in the assessment are annual Federal Employee Viewpoint Survey results, the Partnership for Public Service "Best Places to Work" rankings, historical data and demographics, as well employee and supervisor interviews (from headquarters, region and garrison levels) that guided development of IMCOM's Strategic Human Capital Plan.
"You're making history, and it's a good history," IMCOM Deputy Commanding General for Support, Brig. Gen. Jason Evans told the working group.
Dana Davis, a financial management specialist at IMCOM Europe, region headquarters, and a member of the SHCP working group cited communication as the key to successful implementation
"I'm very hopeful that this effort will be sustained," Davis said. "With General Halverson getting out there and telling everyone that this is important, other leaders and the regional directors repeating it, the message – people are our focus – is going to filter out to the entire workforce."
The plan is scheduled for publication in February and includes specific action items to improve IMCOM practices and develop a people-centric focus. Employees can expect to see transparent, leader-led actions to achieve premiere workplace status and published results of progress.