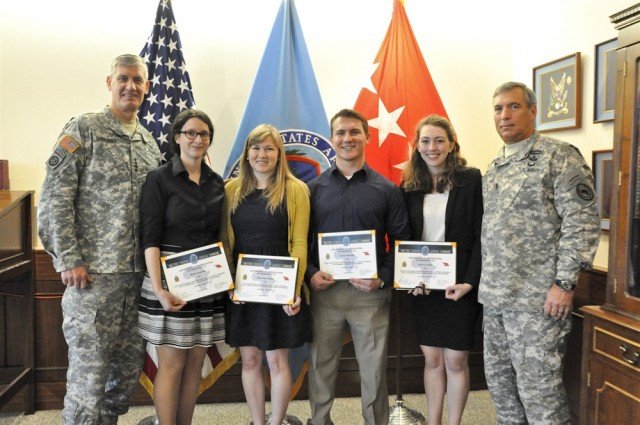 By SSG Christopher C.  Klutts
United States Africa Command
As the summer comes to an end, so too does the tour of duty for the command's first cohort of college interns.
For nearly two months, five interns worked throughout U.S. Africa Command in areas that best matched their interests and academic backgrounds. Students filled unpaid positions with the commander's action group (CAG), the strategy directorate, the command surgeon's office, facilities management and with the U.S. Agency for International Development adviser to the commander.
According to Brian Bento, branch chief of personnel security with AFRICOM and intern program manager, the first group of interns provided roughly 1,080 combined hours over seven weeks. He described the program as an opportunity for students to gain hands-on experience working in government while also earning a secret security clearance.
Marie Goetzke, a history major at Princeton University, found herself directly contributing to the command's mission, something she said is not the norm when interning with other organizations.
"In a lot of internships you're stuck with the shredding or the very menial labor tasks. I think actually getting to work on something that mattered on a much larger scale, it was really incredible," Goetzke said.
The CAG is responsible for preparing Gen. David M. Rodriguez, AFRICOM commander, for speaking engagements and meetings. Goetzke helped the group draft the commander's keynote address for the Africa Logistics Forum in Addis Ababa, Ethiopia. She also played a key role in preparing the commander for LiveAtState, a webcasted media event led by the U.S. Department of State.
"We don't consider Marie an intern. She is a full-fledged CAG team member," said Albert Guerrero, acting deputy director of the CAG. "She exceeded all our expectations in this fast-paced work environment."
Goetzke encouraged students looking for internship opportunities to consider interning with AFRICOM.
"Definitely apply. Once you're here, throw yourself all the way into it. Try and get involved in as many different tasks as you can, to really see what working in the government is like," she said.
With three more interns already lined up to participate, the command is now accepting applications year-round.