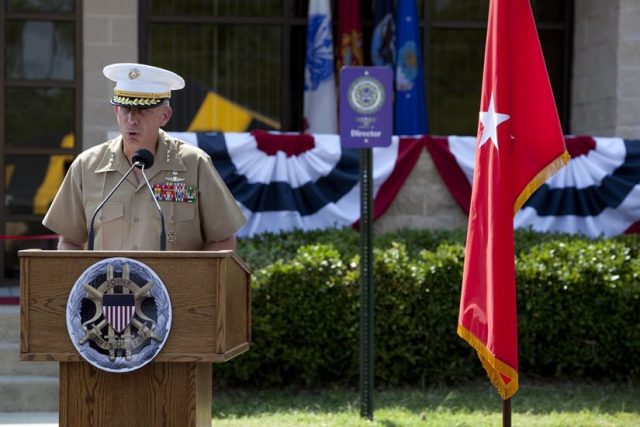 By Jim Garamone DoD News, Defense Media Activity
U.S. Africa Command will concentrate on building the capacity of nations to handle their own security and will continue to guard U.S. interests on the continent, President Barack Obama's choice to lead Africom told the Senate Armed Services Committee, June 21.
If confirmed by the Senate, Marine Corps Lt. Gen. Thomas D. Waldhauser will receive his fourth star and succeed Army Gen. David M. Rodriguez. Waldhauser currently serves as the director of joint force development on the Joint Staff.
Africom is the newest combatant command, established in 2007. Its headquarters is at Kelley Barracks in Stuttgart, Germany. Since it stood up, the command has made numerous contributions to U.S. national strategy, Waldhauser said. The command has many hotspots, he added, as violent extremism has taken root in some areas of the continent.
Challenges
"Today, there are numerous complex challenges in the African area of responsibility," the general told the Senate panel. "Terrorist organizations and terrorist activities conducted by such groups as the Islamic State in Libya [and] al-Shabab in Somalia are present and active across the continent."
Other problems include Boko Haram in Nigeria and the Lord's Resistance Army in Uganda and South Sudan.
"Ethnic strife, poverty, mass atrocities and illicit trafficking threaten stability and economic growth, particularly in nations with weak governments," Waldhauser said. "Consequently, Africom must continue to work with national and international partners to disrupt these transnational threats and prevent the export of terror on the continent, in the region and ultimately to our homeland."
Partners
Africom must continue to work with African partners to create an environment in which these partners are willing and capable to address their security concerns, Waldhauser said. "If confirmed," he added, "I will work not only with the U.S. military components or Africom, but with my fellow combatant commanders as well, in order to foster an environment where our challenges are viewed from a transregional perspective and not just from a particular geographic area of responsibility."
The Senate panel zeroed in on Libya, where the post-Gadhafi government is weak and still finding its legs. The Islamic State of Iraq and the Levant – Libya Province has roughly 5,000 adherents who have taken territory and are acting as a quasi government in areas under their control around the city of Sirte.
Libya
"The situation in Libya today is very complex," Waldhauser said. "We have two significant objectives for the United States: one is to get the government of National Accord up and running, and the second is to disrupt [ISIL] inside Libya."
U.S. advisors in Libya are providing guidance to the government of National Accord, the general said.
Established in March, it has a long way to go, the general said. It has shown some "very basic progress, but it is going to take a lot of time," he added.
Libyan forces, in loose affiliation with the government, are taking on ISIL in and around Sirte, and they have made progress. The forces have surrounded the city, but have not yet struck toward its center, Waldhauser said.
Watching Sirte
U.S. officials are watching the situation in Sirte carefully, the general told the senators. "If there is success in Sirte, if ISIL does get routed and perhaps leave, we need to have a plan for success at that point," he said.
Waldhauser noted that Africom is an "economy of force" theater — by doctrine, Africa Command is not a decisive theater of operations, and leaders of the command must be prepared to take prudent risks.
That said, he added, the command still must be ready if needed, citing operations to rid West Africa of Ebola fever and operations against al-Shabab as examples.