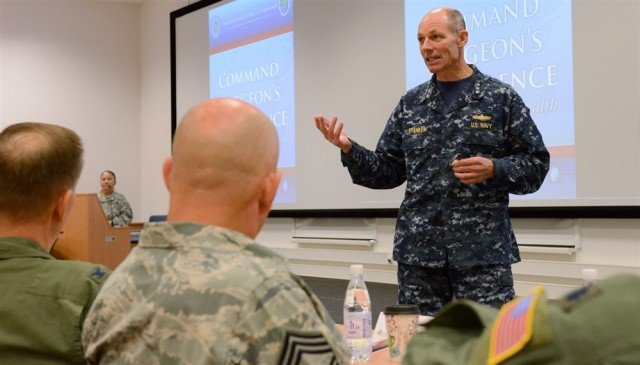 By SSG Christopher C. Klutts
United States Africa Command
The command surgeon's office at U.S. Africa Command held a conference at Kelley Barracks, Sept. 9-11, to synchronize the medical efforts of the U.S. Army, Air Force, Navy, Marine and Special Operations component commands with interagency and military partners in Africa.
Briefers discussed how their organization's medical operations support the command's strategic objectives. They covered topics like the direct care and medical readiness of U.S. forces, building the capacity of partner nation militaries to care for their own troops, and the training U.S. medical professionals can receive by participating in multinational exercises.
Also, for the second year in a row, medical officers from France, the Netherlands and Germany discussed their medical operations in Africa.
U.S. Air Force Col. Jeff Gillen, deputy command surgeon for AFRICOM, said the conference comes as AFRICOM is finalizing a new theater campaign plan in support of the 2015 National Defense Strategy.
Gillen said that because the practice of medicine impacts survival, medical operations are tied to the stability and prosperity of any region.
"Medical support is a basic need of a stable community, just like water, food and shelter," said Gillen.
While the conference was a location for representatives from different organizations to present, it was also a venue for seasoned veterans and those newer to the field to share their views on modern medical operations.
"You have these experienced professionals who are saying 'We can't do things the old way.' I find that professionally invigorating," said U.S. Navy Lt. Raymond Posey, a medical planner and the command surgeon for U.S. Marine Forces Europe and Africa. He was surprised by how much emphasis the senior medical providers and operations officers placed on finding new solutions to familiar issues.
"Everybody is already working toward the goal, now we can look at how we can all work toward the same goals together," he said.