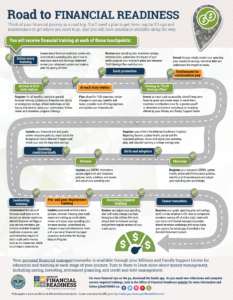 Financial literacy training provides Soldiers and Families the knowledge, skills, and standards to enable them to manage their financial affairs in a manner that supports mission readiness.
According to the Financial readiness program, financial issues for soldiers can have a direct impact on readiness and retention, In many cases, resultant financial problems have had a serious negative impact on Department of the Army personnel and families. It also has a significant effect on operational readiness, morale and retention including suicide and domestic/violent abuse.
Since 13 Jan 2021, the Department of the Army has vowed to provide financial literacy training to the Regular Army, Army National Guard/Army National Guard of the United States, and U. S. Army Reserve Soldiers. Financial literacy training will occur at professional and personal major life events, and as a component of periodically required training, in accordance with the National Defense Authorization Act. Literacy training received from another branch of the Service is proof of training.
As part of the program a road to financial readiness has been created. Think of your financial journey as a road trip. You'll need a plan to get there, make regular fill-ups and maintenance to get where you need to go. And you will have assistance available along the way.
The financial Readiness Program at Army Community Service will provide financial classes covering the Touchpoints of a Soldiers Military career. The classes will be offered monthly and by Unit/organization request. Try submitting a class request form to the Financial Readiness Program, USAG Stuttgart ACS.
For more information and to register for a class/training please call the Financial Readiness Program Counselor, CIV: 09641-70-596-3362; DSN: 596-3362 or email.