Release courtesy of US Army Europe and Installation Management Command Directorate-Europe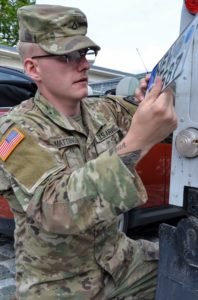 WIESBADEN, Germany – Effective March 23, USAREUR Registry of Motor Vehicles (RMV) extended the permanent registrations of Privately Owned Vehicles (POVs) set to expire between 21 MAR 20 through 20 APR 20 by 60 days; extended expiration dates now fall between 21 MAY 20 and 20 JUN 20.
As an example, if your POV registration was set to expire March 27, you now have until May 27 to renew.
In addition, the RMV is also currently extending a second batch of registrations with expiration dates between 21 APR 20 and 20 MAY 20. This means that all privately owned vehicles registered with the U.S. Army Europe Registry of Motor Vehicles that expire within this 30 day timeframe are automatically extended for 60 days.
The U.S. Army Europe Registry of Motor Vehicles is closed due to the COVID-19 situation. New permanent registration forms will not be issued until normal operations resume. (Note: this does not prevent the registration of new vehicles locally)
Your local Military Police can verify registration information if required by host nation police, such as during a traffic stop.
The Army and Air Forces Exchange Services ESSO fuel card program will continue to honor expired, hard copy registration forms.
All expiring registrations, to include temporary and non-operational, are considered valid until normal operations resume – except for cancellations due to lack of insurance coverage.
For special or emergency circumstances, call the Stuttgart vehicle registration office at +49(0) 07031-15-2294 / 2495. The office is currently operating on an appointment-only basis on Mondays, Tuesdays, and Fridays. Customers can make appointments at the Stuttgart Citizen appointment page or by using the mobile app.