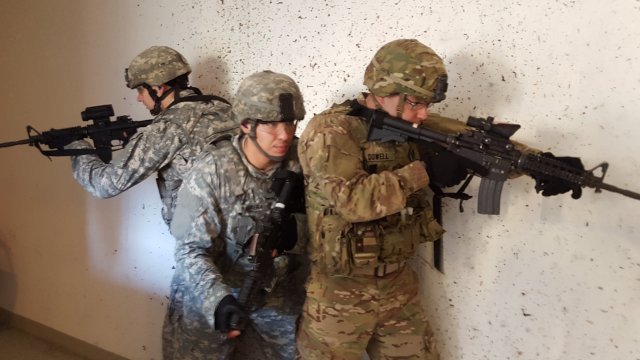 Story and photos by 1LT James Oglesby, 554th Military Police Company
The 554th Military Police Company hosted the 709th Military Police Battalion's annual D-Day Challenge Oct. 27, 2015 at the Local Training Area, Panzer Kaserne. A total of five teams composed of three Soldiers from different MP Companies across Germany traveled to Stuttgart to compete in the D-Day Challenge. After a long day of hard competition, Stuttgart's 554th MP Company emerged as the victors.
The competition began with an 8-mile foot march at 4 a.m. in the local training area. Upon completion of the foot march, teams were rotated through five stations: demonstrating chemical and biological weapon countermeasures, a shoot house, a stress shoot, an obstacle course, and a grenade course. The competition concluded with a timed land navigation course where teams were tasked with finding five points within 90- minutes.
The D-Day Challenge is a competition that brings Military Police Soldiers from different Military Police units over Germany together in order to demonstrate their mastery of basic soldier skills in variety of scored events. These events range from conducting foot marches, to negotiating obstacle courses to marksmanship and close quarters combat. The team that earns the best score from each of these events receives is the winner. The event is done annually in order to promote espirit de corps across the battalion and develop Leaders and Soldiers.