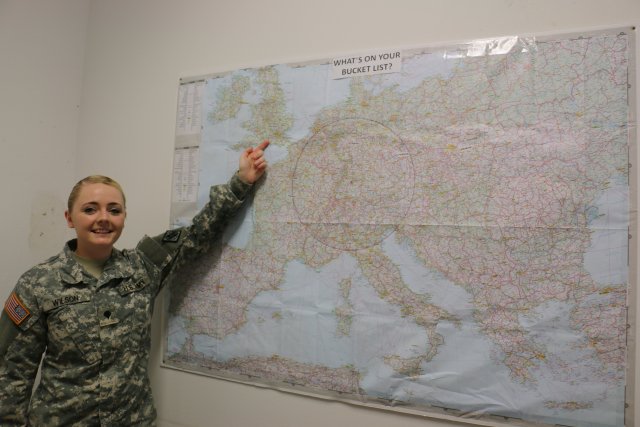 By Andrea Stauffer, Family and MWR Marketing
Single or unaccompanied service members stationed in Stuttgart often get assigned to live in barracks. Whether it is for three months or three years, they want the same thing as everyone – a nice, welcoming place to call home.
While discussing quality of life issues during a Better Opportunities for Single service members (BOSS) meeting in July, service members mentioned that the hallways in barracks were completely bare and thus felt stark instead of welcoming. Other meeting attendees expressed concern that they hadn't met other people living in the barracks since arriving. These comments sparked a movement within the Garrison to make the barracks a more welcoming place to live.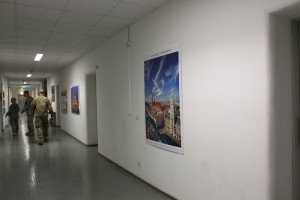 Cory Hoffman, the USAG Stuttgart BOSS Advisor, jumped on the bandwagon first, with BOSS hosting a "Meet your Neighbors" day in mid-September. This event boasted a BBQ, music and games with prizes and support from organizations across the Garrison including ACS, the USO, FRGs, ASAP, and of course, Family and MWR. "We encouraged our service members to get out of their rooms, meet new people and engage with the community, and they did just that, ending the day joined together in a dance line celebrating with their new friends," Hoffman stated. "Since then, we also received approval from CSM Lynice Thorpe for our plans to update the décor in the barracks' entrances. This should make a big impact on the service member's first impression of living in Stuttgart."
CSM Woody Carter, in charge of the barracks for the 52nd Signal Battalion Soldiers, took it upon himself to take this mission one step further. CSM Carter started working with the Family and MWR Marketing office to collect and print large images from travel destinations across Europe. "As a senior enlisted leader, barracks life is in my blood and taking care of Soldiers is near and dear to my heart. I figured the hallway photos would cheer up the dreary space but also inspire my folks to band together to explore the nearby sites and experience the benefits of living in Europe," said CSM Carter. "I knew there was a plan in place to decorate the building entrances, but I just wanted to carry that plan (and homey feeling) further into their living space."
Apparently the plan is working. "The pictures are definitely inspiring. I want to go to Munich for sure since it is so close, but London is also on my bucket list. This has been a great initiative and I hope it continues. It has definitely made my stay in Stuttgart more appealing," stated SPC Wilson from the 587th Signal Company.
Service members can expect barracks beautification and improvements to continue. "Their quality of life is one of our greatest concerns, and we are committed to showing them that USAG Stuttgart cares. We want to make sure everyone in our community says – l'm glad I live here," added Carter.