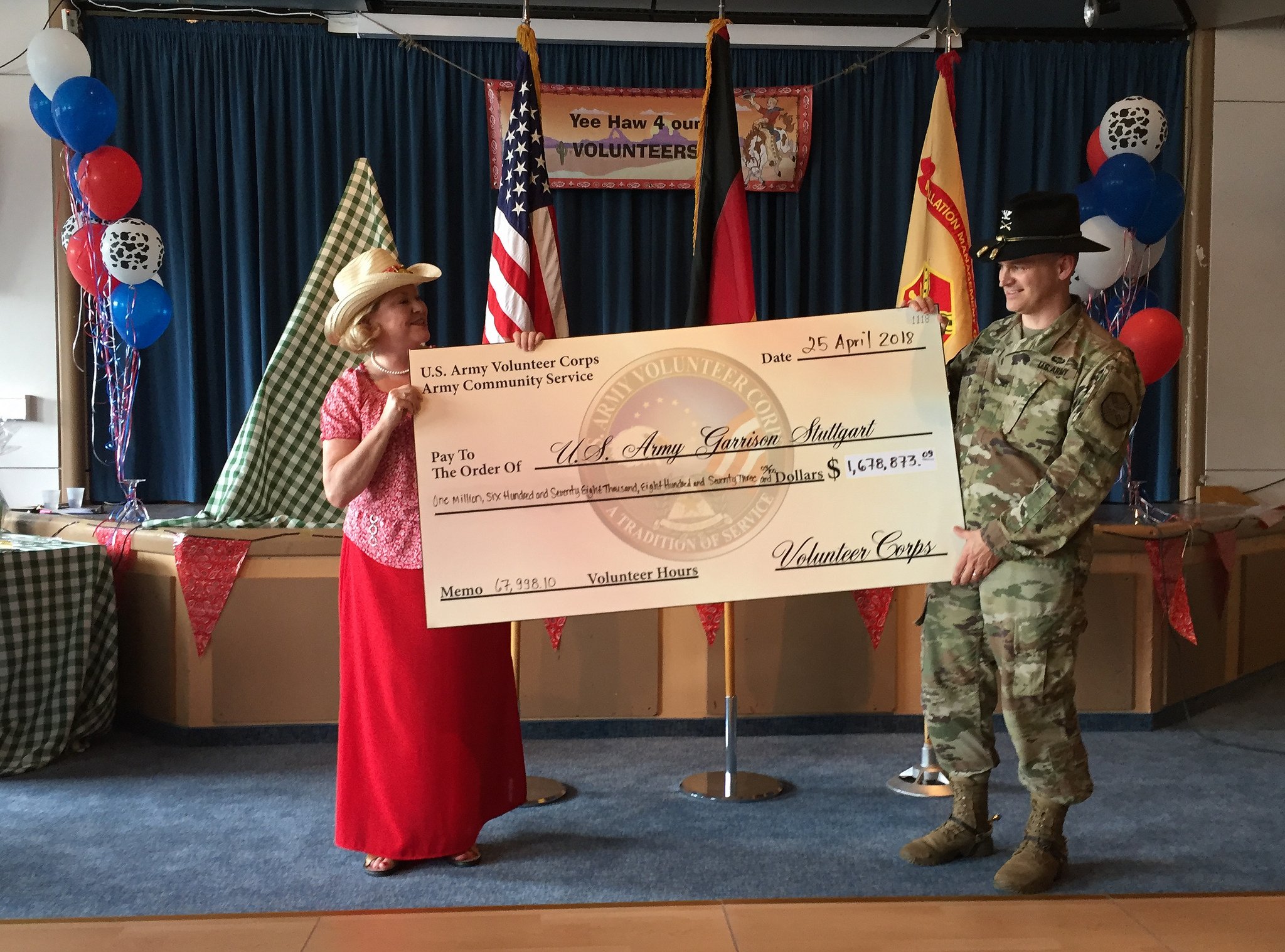 By Bardia Khajenoori
USAG Stuttgart Public Affairs
U.S. Army Garrison Stuttgart offered a "yee-haw" of appreciation to its volunteers in a Western-themed Volunteer Recognition Ceremony held at the Patch Community Club on April 25.
The event provided a local bookend to the Army-wide Volunteer Appreciation Week of April 15-21 and honored all volunteer contributors while also presenting five category-based "Volunteer of the Year" awards and five Commander's Awards of Excellence.
Col. Neal A. Corson, commander, USAG Stuttgart, paid tribute to the integral role that volunteers play throughout the garrison.
"Without volunteers, this community would not run; they are integral to everything we do," said Corson, noting their contributions in areas ranging from schools and private organizations to the garrison Directorate of Human Resources. "I appreciate every single one of them and all of you here who will be recognized today."
A total of 613 registered volunteers performed 67,988 hours of registered service throughout calendar year 2017, according to Jessica LaGassey-Simpson, volunteer coordinator at Army Community Service. The national civic organization Independent Sector calculates the estimated value of each volunteer hour at $24.69—meaning those tens of thousands of service hours equate to a cost savings of $1,678,873 for the garrison. Col. Corson was presented at the ceremony with a giant check for that amount in a symbolic representation of the collective contributions.
"We owe our volunteers a debt of gratitude that we can never repay," said LaGassey-Simpson, who co-hosted the event. "The best we can do is to thank them, recognize them, and celebrate them," with the ceremony being one such opportunity.
Recipients of the various "Volunteer of the Year" awards were nominated either by offices within the garrison or by registered private organizations active within the community. They were awarded in the categories of Youth, Civilian, Military, Senior, and Spouse, with final decisions made by a panel of judges.
USAG Stuttgart's Youth Volunteer of the Year is Michaela-Katherine, or "Mika", Taylor, who performed various roles onstage, backstage, and in the front of house at the Stuttgart Theatre Center. While the award recognized her contributions in 2017, she has been active with the theatre program throughout high school and even as an elementary schooler on her family's prior tour in Stuttgart. She also performed work with garrison Child and Youth Services, the Girl Scouts (with whom she recently won the prestigious Gold Award for leadership and service) and community schools. "I think volunteering is really important because it helps shape communities, so I always find time for it," said Taylor, who is a full-time student. "I want everyone, especially youth, to go out and volunteer because we can make the world different little by little, and the more people who are involved, the better." She suggested starting with small projects, particularly for new volunteers and those unsure of the time they can commit, and gradually working up to larger projects and deeper commitments.
The Civilian Volunteer of the Year is Karen Damm, nominated for her service as the Treasurer of the Stuttgart German-American Wandering Club. Described by the organization as an "excellent role model" who "contributed to the overall financial success of the club," Damm has been involved with the group for approximately eight years and has served as treasurer for the past three. "I like the fact that it's brought both the German and the American communities into one organization," she said.
PO1 Ryan O'Hagan was selected as the Military Volunteer of the Year, having been nominated by the USO as an event and front desk volunteer as well as a tour guide in the "Discover" series of excursions. As he has since moved on to a new assignment, the award was accepted on his behalf by the USO.
The Senior Volunteer of the Year is Gladys Williams, who provided many hours of service at the Patch Thrift Shop. "Without her help, during an employee and contract switchover, the thrift shop would not have been able to stay open," her nomination read. "Her commitment and love for the store and the community is evident in her smile and in her heart for the people she serves."
The Spouse Volunteer of the Year is Pamela Sherode, who served as a Human Resources Assistant in the Military Personnel Division. Sherode came to Stuttgart with her DOD civilian husband and spent roughly eight months volunteering on a daily basis before moving into a new job. "I really wanted to be in [Human Resources] because that's my background, so I was pleased to be able to work in the passport office, ID office, in-and-out-processing, etc.," she said. She especially appreciated the opportunity to help newcomers get settled, offering a friendly face in the office or in the hall during what can be a very stressful and confusing period. By working in a garrison office, "you actually gain a lot of insight and information to help those people who are coming," said Sherode, who still tries to volunteer in other areas when time permits.
In addition, the Commander's Award of Excellence was awarded to five individuals with over 1,000 hours of service over the course of 2017: Jennie Baumback, Nan Lawless, Marie Mather, Debra Papalia and Gudrun Kaper.
The program also featured the presentation of the Military Outstanding Volunteer Service Medal to event co-host SFC Cornelius Walsh in recognition of his service as president of the Better Opportunities for Single Soldiers (BOSS) Program since December 2016. Corson pointed out that Walsh was presenting in the ceremony despite being less than 48 hours away from changing stations—a testament to his commitment to serving the Stuttgart community.
For others with a similar desire to give back, it's easy to get started. Damm, the Civilian Volunteer of the Year, noted that the first step to getting involved can be as simple as going to Army Community Service and asking what opportunities are available. "There's always places to be able to volunteer," she said. "There are many choices—all you have to do is ask."
To view the full awards photo album, click here.

————————
Join the Stuttgart community of volunteers
By Holly DeCarlo-White
Volunteer opportunities through Army Community Service (ACS) come with many benefits, including the gaining valuable experience on par with employment experience. Volunteers can learn new skills by exploring different careers, make new friends in the Stuttgart community and develop networking opportunities to jumpstart careers, not to mention add experience to a resume or scholarship application.
Agencies throughout Stuttgart are always on the lookout for new volunteers; Red Cross, United Service Organizations (USO), Youth Sports, Stuttgart Theatre Center, just to name a few.
The Volunteer Management Information System (VMIS) tracks volunteer hours for volunteer service medals and the annual volunteer recognition ceremony. For additional information on volunteer opportunities, stop by ACS, Building 2915 on Panzer Kaserne, or contact DSN: 431-3362/civ. 07031-15-3362.