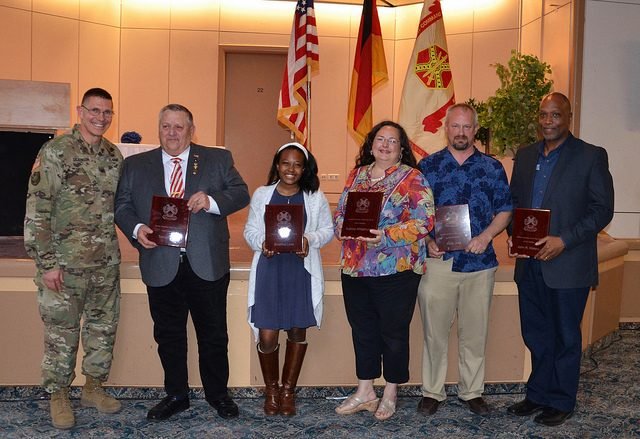 Photos and Story by Holly DeCarlo-White
USAG Stuttgart Public Affairs
"We make a living by what we get, but we make a life by what we give," – Winston Churchhill
U.S. Army Garrison Stuttgart Commander, Col. Glenn K. Dickenson recognized all Stuttgart community volunteers for the 2015 year during the annual Volunteer Recognition Ceremony, April 22 at the Patch Community Club, Patch Barracks.
The event was the culminating event to National Volunteer Recognition Week in April. Leadership from all branches of service were in attendance to show their support.
Throughout the ceremony, Dickenson highlighted the vital role that volunteers have in the Stuttgart community.
"No matter how visible or subtle the role, or how much time is involved, all volunteers enhance the strength of the Stuttgart community, said Dickenson. "Each one of these volunteers give of themselves every day to lift our spirits and touch our lives."
The numbers don't lie.
In 2015, over 490 volunteers recorded over 65 thousand hours for 218 organizations in the Volunteer Management Information System through Army Community Service. There were 185 volunteers that recorded over 100 hours, and seven volunteers contributing more than 1,000 hours. At a value of $23.07 per hour, that is equivalent to exactly $1,510,831 worth of service to the community.
Volunteers were recognized for their efforts in youth activities, student volunteering, community outreach and other areas. Volunteers of the Year were nominated by an organization they volunteered for, and were selected by a panel of judges.
"Volunteers make a difference in lives every single day in the community, so it's important that we as a community come together to say thank you and show our appreciation," said Kristine Bell, Army Community Service program manager.
Bell presented the awards for the following categories:
Commander's Volunteer of Excellence, 1,000 hours and above:
Gudrun Kaper
Stacey Meyer
Jenny Risdal
Krissy Soto
Heidi Summer
Susan Tipton
Katrina Whitehurst
Volunteer of the Year:
Youth: Brianna Love
Military: Sgt. John R. Waters
Spouse: Katrina Whitehurst
Senior: Thomas Fray
Civilian: Kelly Just
Kelly Just has been serving in the Stuttgart community for six years as a volunteer coach for three different sports through Child, Youth and School (CYS) Sports, and with Cub Scout Pack 44 on Panzer Kaserne.
"I do it for the kids. I've got 62 wrestlers I coach every year…the way the sport impacts their lives, I love to see how they grow from the sports that I am teaching," said Just.
Katrina Whitehurst volunteers and serves on the committee board for the Stuttgart Community Spouses Club (SCSC) as well as with the United Service Organizations (USO).
"I like to make a difference in the community, it's easy to sit back and say how things should be, but I like to put my money where my mouth is," said Whitehurst.
"It's also a great way to meet people, I have met every single close friend I have through volunteering with all the great organizations that I have been involved with over the years, and at all the different duty stations," she continued.
"One thing we say in the spouses club is, we work hard but we play hard too, we do a lot of good work but we have a lot of fun doing it!"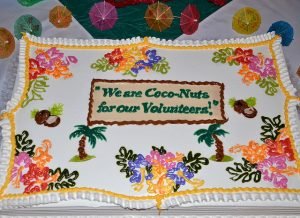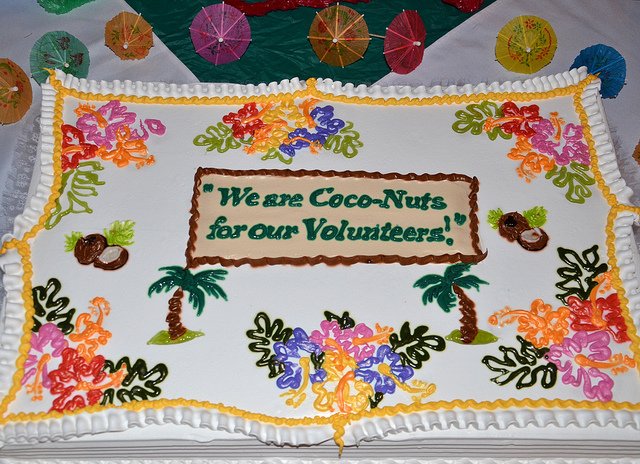 A luau themed reception followed the ceremony and included food, live hula dancing performances and music.
To view the awards photo album, click here.

Join the Stuttgart community of volunteers
Volunteer opportunities through Army Community Service (ACS) come with many benefits, including the gaining valuable experience on par with employment experience. Volunteers can learn new skills by exploring different careers, make new friends in the Stuttgart community and develop networking opportunities to jumpstart careers, not to mention add experience to a resume or scholarship application.
Agencies throughout Stuttgart are always on the lookout for new volunteers; Red Cross, United Service Organizations (USO), Youth Sports, Stuttgart Theatre Center, just to name a few.
The Volunteer Management Information System (VMIS) tracks volunteer hours for volunteer service medals and the annual volunteer recognition ceremony. For additional information on volunteer opportunities, stop by ACS, Building 2915 on Panzer Kaserne, or contact DSN: 431-3362/civ. 07031-15-3362.