By IMCOM-Europe Public Affairs
The finest praise that any actor or singer can receive is a standing ovation.
Winning a little hardware isn't bad as well, such as a Topper trophy.
Installation Management Command-Europe recognized its best community theater performances during the annual Topper Awards ceremony held April 24 at Armstrong's Club on U.S. Army Garrison Rheinland-Pfalz.
Almost 50 awards went to individuals and troupes for their technical, musical, acting, artistic and directing achievements when producing 16 shows at military installations located throughout Belgium, Italy and Germany.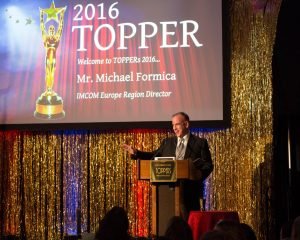 The Toppers shine a spotlight on those who take the stage as well as many who work behind the scenes, with all involved giving their time freely, whether as a backstage crew member, designer, technician, usher, performer, director or musician. Overall last year, some 3,000 people contributed more than 300,000 volunteer hours in producing plays, musicals and special events held on region installations.
"These folks do so much for our communities," said Michael Formica, director of IMCOM-Europe. "We cannot thank them enough for providing such quality entertainment for our enjoyment."
____________________________________________
Stuttgart Theater Center's Stage Door performance had 14 nominations and walked away with four wins:
Best Make-Up For A Play
Meaghan Rhymer, Stage Door, The Stuttgart Theater Center
Best Hair And Wig Design
Nicole Soren, Stage Door, The Stuttgart Theater Center
Best Youth Performance In A Play
Olivia Carroll (Judith Canfield), Stage Door, The Stuttgart Theater Center
Best Actress In A Play
Tracy Coffey (Terry Randall), Stage Door, The Stuttgart Theater Center
Reserve tickets to Stuttgart Theatre Center performances by visiting Stuttgart.armymwr.com or call DSN: 421-3055/civ.0711-729-3055.