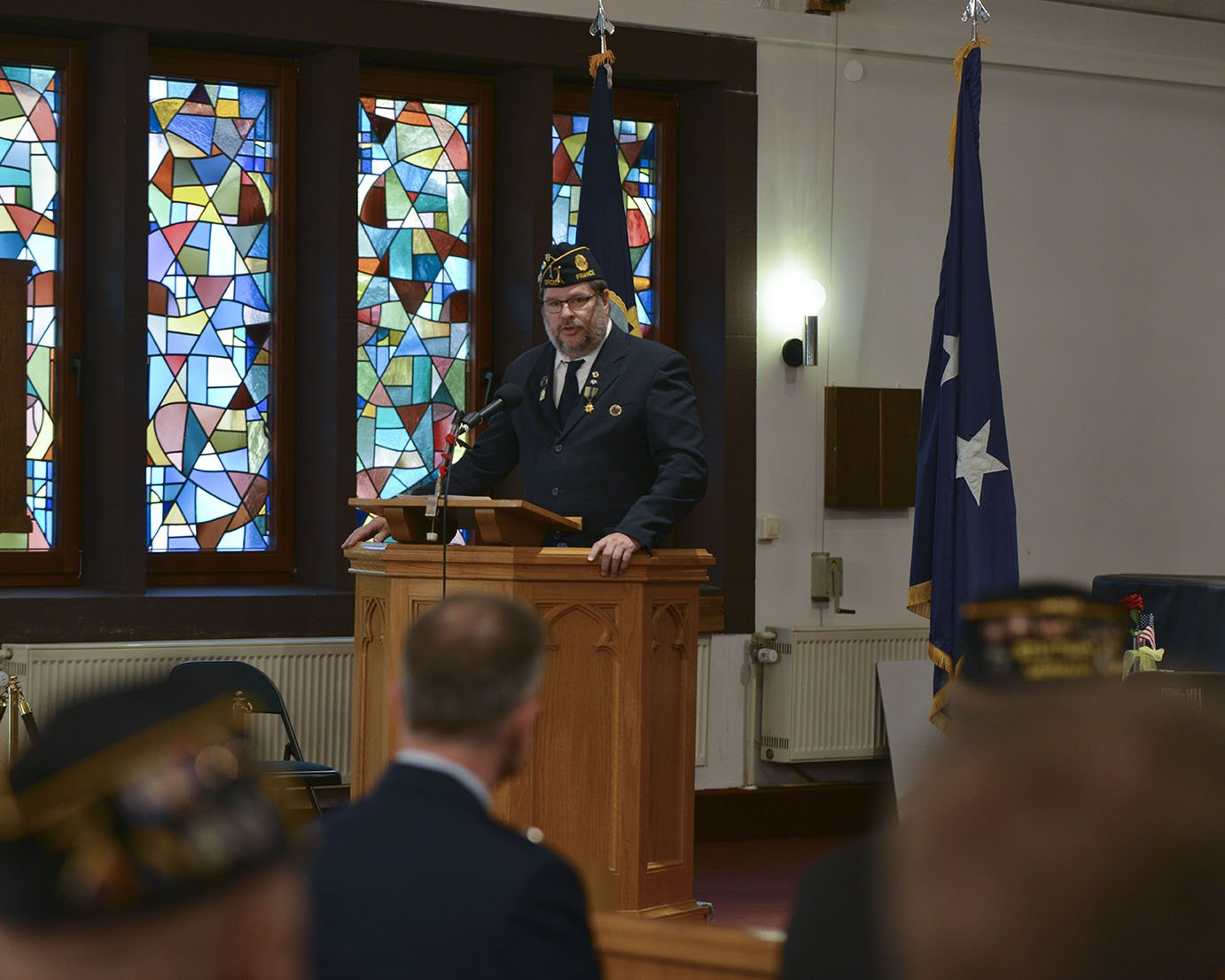 By Bardia Khajenoori
USAG Stuttgart Public Affairs
As gray storm clouds moved ominously over the Patch Barracks Chapel ahead of Memorial Day, the message from the observance inside was clear: when reflecting on the sacrifice of those who gave their lives for their country, focus on their stories—not statistics.
The ceremony took place May 24 and featured remembrances and involvement from across the joint community. Stuttgart High School's JJROTC posted the colors and Keith Rossetto of the U.S. Army Health Clinic performed the national anthem before Ch. (Col.) James Boulware, garrison chaplain, provided an invocation.
Rear Adm. John W. Smith, chief of staff, U.S. European Command, served as the keynote speaker and urged attendees to consider the people behind the numbers.
"Too often, we look at statistics to describe the cost of war—how many dollars were spent, the number of direct hits on targets, the number of missiles launched from ships at sea, or, sadly, the number of service members killed," Smith said. "It is important, on Memorial Day in particular, that those who lost their lives in service to their country have faces and names ascribed to them and that their deeds be remembered each and every day."
Smith recounted the bravery of service members such as Army Col. William Wood and Lt. Jennifer Moreno, who were killed in Iraq and Afghanistan, respectively, as they rushed to assist injured comrades. He also told the story of Coast Guard Petty Officer 2nd Class David Bosley, Petty Officer 3rd Class Matthew Schlimme, and Seaman Clinton Miniken, who gave their lives attempting a rescue mission in rough seas off Washington state.
Smith noted that while personnel may not have family nearby with whom to share the day of remembrance, the 21 American cemeteries in Europe offer a unique opportunity to recognize the sacrifices of more than 100,000 service members on the continent on which they were made.
"While you're here, we can take the opportunity to walk those hallowed grounds," he said. "To understand, to feel, to reminisce about the sacrifices that each and every one of those individuals who are buried there have made for us."
Representatives from American Legion Stuttgart Post 6, Veterans of Foreign Wars Post 10810, the Association of the United States Army, and the Stuttgart Clan of Motorcycle Enthusiasts placed memorial wreaths inside the chapel in a solemn salute that was followed by the playing of Taps.
Tyler Johnson, commander of the American Legion post, reminded attendees that every American can feel closely connected to the contributions of those honored on Memorial Day, regardless of a military affiliation.
"Even if you are not a Gold Star family member, a battle buddy, a friend, or a relative of a fallen hero, all you have to do is look around you and you will see their legacy," Johnson said. "It is us, Americans, gathered in a free society, unified with the common purpose of honoring uncommon bravery. We are their legacy."