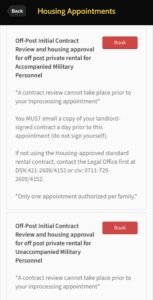 USAG Stuttgart Public Affairs
❗️The Housing office will streamline its contract review process starting Monday. That means appointments will be reduced from about 1.5 hours to 45 minutes.
✅ The housing team will discuss highlights of the housing contract, and nuisances based on the local environment. They'll also answer any specific question you have.
✅ We encourage new residents to download and read the provided military contract prior to attending their appointment. They must ensure the contract details have been filled out and that the contract is signed by the prospective landlord or property manager. 
✅ The legal office can assist with traditional German contracts. Customers are advised to not sign contracts ahead of a professional review. 
❗️Note: Appointments can only be made via the USAG Stuttgart App. No walk-ins will be taken.