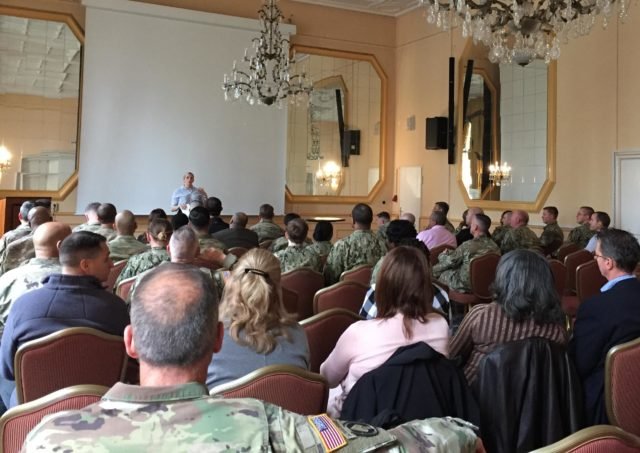 Story and photo by Holly DeCarlo-White
USAG Stuttgart Public Affairs
The Senior Leader Symposium, held April 17 on Patch Barracks, focused on Behavioral Health and Suicide Prevention and shed light among peers to personal stories of how mental health can have life-long impacts without any obvious symptoms.
The event, held in partnership with Stuttgart's Army Substance Abuse Program (ASAP), is the first of what the U.S. Army Health Clinic on Patch Barracks hopes will become an annual event to increase service member awareness others are going through the same things they are.
Capt. Traci Kaiser, Behavioral Health officer of the Patch Health Clinic, lead the discussion and introduced guest speakers, Master Sgt. Justin Hanley of the Regional Satellite Communications Support Center, U.S. Army Space and Missile Defense Command (SMDC), and Col. James Czarnik, U.S. Army Medical liaison to the British Army.
"If one person here today learned something that makes them think about themselves a little bit harder, or enables them to help someone else, then it was a success," Kaiser said.
Speakers shared their personal struggles throughout their careers with post-traumatic stress disorder (PTSD) and their ability to build and maintain interpersonal relationships, support their families emotionally and transition from a deployed active duty service member to a human being in normal society at home. Speakers spoke to how each service member can experience PTSD differently with different triggers and habits from avoiding crowds, focusing on events in the past, ignoring what is happening in the present and compartmentalizing their work vs. home-life.
Many service members struggle to transition their TTP's (tactics, techniques and procedures), said Czarnik, who quoted the movie, "A Few Good Men" saying: "I'd rather you just say 'thank you' and go on your way."
"We think it's just going to happen, we don't mentally transition our TTP's," Czarnik said.
"All the things we were using to stay alive [when deployed], when we get home make us completely out of place," Czarnik said using the example of fast and erratic driving as a safety measure while stationed in Iraq. Following deployment, service members have a hard time embracing connection with others who could not understand their experiences.
"I put up walls, never fully transitioning [between deployments], the time at home was the time I waited to go back," Czarnik said.
It's also a blow to the ego to know that your significant other really doesn't need you to make it through life; they want you there, but that's one of those things that is hard to embrace as well.
"Joy doesn't magically happen in peoples lives. We make joy happen in other peoples lives. If we don't take active steps, it's the same thing with getting comfortable with your behavioral health issues," Czarnik said.
Having known many people who have committed suicide during their Army careers, a speaker commented "it sucks, because the only people left are the people who are trying to figure out what happened and why." One example discussed was Maj. Gen. John Rossi, 55, who took his own life in 2016 on-post at home at Redstone Arsenal, Alabama, just days before taking command of SMDC.
The speakers placed emphasis on seeking help while in uniform, and being persistent until you find a counselor you trust and are comfortable with speaking to, though it may not be easy or immediate. The speakers added that having the honest discussion and involving your spouse before it impacts your family life most, and lastly your career is vital as your job is usually the last thing that fails. The concept that seeking counseling or emotional help while in uniform will harm your career is no longer applicable in today's military. Hanley's career is an example of that as he has always maintained a security clearance, despite personal struggles, and he will attend the U.S. Army Sergeants Major Academy this year, continuing to mentor Soldiers through a successful career, growing from his own experiences.
"As senior leaders, we all focus downward constantly. That's what we are trained to do, that's what we like to do. We don't look at ourselves because we don't want to be that leader that has to ask for help," said Col. Neal Corson, commander, U.S. Army Garrison Stuttgart . "Things you come back from deployment with are things you don't really identify–you just adjust. Disconnecting happens throughout your career. It is key that you are able to identify when you are doing it and then to try to find help, because it happens to everybody due to what we do. Challenges we go through, we hide, so making sure we are looking around at other senior leaders–it's not easy to see the challenges they have.  Their performance may be superior. You really have to dig in and ask how the other parts of their life is going."
The event was open to all branches of service, rank E-7 and above, O4 and above, and civilians GS-12 and above.
For more information on Behavioral Health, counseling services or ASAP in USAG Stuttgart, call DSN: 590-1615 or 2900/civ. 06371-9464-2900.
Additional Resources
Family Advocacy Services: DSN: 590-1616/civ. 06371-9464-1616
Chaplain: DSN: 431-3030/civ. 07031-15-3030
Army Community Service (ACS): DSN: 431-3362/civ. 07031-15-3362
Military Family Life Counseling (MFLAC):

Adults: civ. 0170-708-0715/0160-9574-8279
Children: civ. 01520-265-8259/01520-499-5260

Victim Advocate: DSN: 431-3342/civ. 07031-15-3342
For after-hours emergencies, always call the Military Police at DSN: 430-5262/civ. 0711-680-5262, or dial 112.