By Rey Ramon

21st Theater Sustainment Command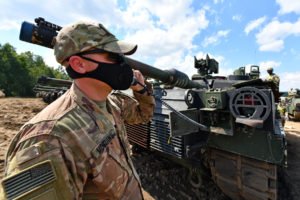 The visual information team at Stuttgart's Training Support Center tell their stories through the lens of a camera. The office, staffed by four visual information specialists, provides high-quality documentation of events throughout the Stuttgart Military Community and Europe.
Recently, two staff members from Stuttgart's VI Center traveled to Poland to document DEFENDER-Europe 20, a deployment exercise designed to build readiness in support of the U.S. National Defense Strategy and NATO deterrence objectives. Although scaled back from its original size because of the COVID-19 pandemic, Stuttgart Training Support Center's visual information specialists were still ready and prepared to provide expeditionary documentary support during the two-week mission.
As well as covering high-intensity, multinational exercises, their experiences also include covering sitting presidents, high-ranking politicians and general officers. While the VI center offers several less action-packed services like official portraits, photos for promotion boards, passport-size photos, and graphic design/printing services, they take every element of their mission seriously.
"That understanding of how the military and each branch respectively works allows us to provide each client with a superior product."
"All branches of the military are represented here and I think our collective experience as members of the military allow us to think like our customers because we literally were them at some point in our careers," said Takada. "That understanding of how the military and each branch respectively works allows us to provide each client with a superior product."
Each member of this small, elite team understands the importance of service with more than 60 combined years of prior military experience and more than 22 deployments, including several to Iraq and Afghanistan. VI specialist Ken Takada said the team uses their collective service in the Army, Air Force and Navy to better serve the more than 20,000 members of the Stuttgart Military Community.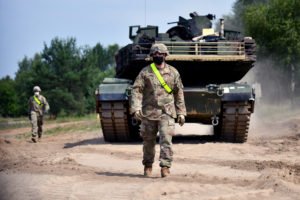 "Our print shop has been used extensively during COVID-19 as a way for the garrison to communicate important information to the community, such as the HPCON signs located throughout the community and COVID-19 testing signs at the Stuttgart Health Clinic," said Takada. "Although they may not be as exciting as documenting live-fire ranges or airborne operations, these services are every bit as important."
During the DEFENDER-20 mission the team documented a CONUS-based force conducting live-fire exercise in a field environment while training with European allied partner nations while observing all appropriate COVID-19 prevention measures.
Experiences like this continue to motivate the VI team to always go where the story is, despite any danger present. They did it when they served in uniform, and they'll continue to do it today while they serve as civilians.