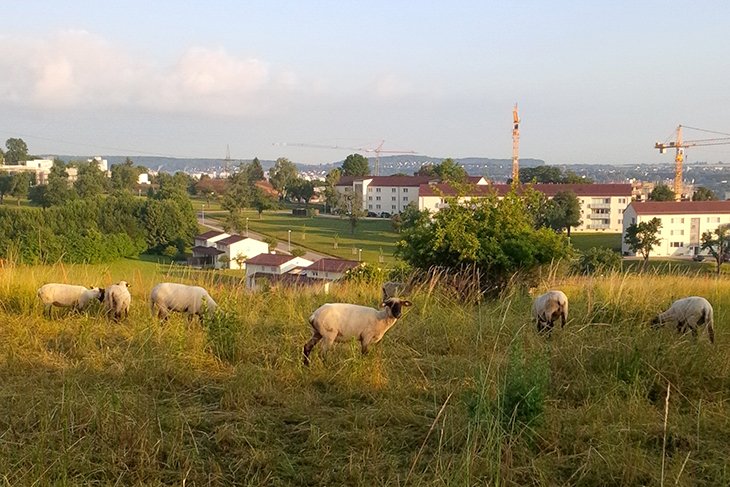 ---
Editor's note: This story was originally published in June 2015 under the title "RB's bucolic pastures now home to sheep." It is being republished to inform the community after the sheep have returned for their annual visit in 2022.
---
By S.J. Grady
USAG Stuttgart Public Affairs Office
U.S. Army Garrison Stuttgart's Directorate of Public Works has found a clever way of trimming its budget and reducing its carbon footprint — by bringing in sheep to trim the grounds.
Twenty black-headed sheep have taken up residence on Robinson Barracks to help maintain the installation's vast, grassy hillsides in an environmentally-friendly manner.
The installation welcomed the grazing herd June 22.
The livestock, owned by shepherd Dieter Fischle, are penned in a portable electric fence and will be moved as the sheep work their way through the grass. Robinson Barracks will be their home through the summer.
It's not the first time sheep have been a part of RB's landscape. Several community members remember the sheep from years past.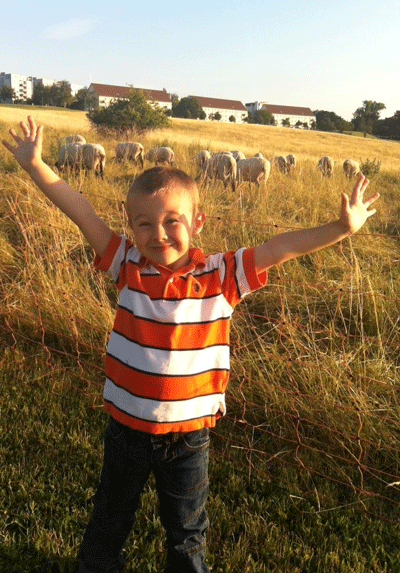 Natalie Camp, the Patch librarian, spent her elementary school years on Robinson Barracks in the early 70s.
These days Robinson Barracks is seen as a quiet bedroom community, but back then, with more than 4,000 Soldiers and civilians working on the caserne, it was the hub of what was dubbed the Greater Stuttgart Military Community.
Home to the largest PX in Europe at the time, "it was the place to go," she said.
Even with all the hustle and bustle, a large flock of sheep came once a year to graze freely.
"It was a challenge to negotiate the sheep patties on the way to school through the valley," Camp said. "But I have great memories, and I'm happy they have come back."
When Heidi Malarchik, the USAG Stuttgart deputy to the commander, caught a glimpse of the sheep on her way to the American Forces Network Stuttgart studios June 24, she said she was transported back to 1979. "I lived in the bachelor officers' quarters at Robinson Barracks and remember my delight at seeing the sheep on early summer mornings munching on the grass."
If Facebook posts are any indication of sentiment, current RB residents feel the same way.
One thing is for sure. For RB residents, both past and present, the sheep will not easily be forgotten. "The legendary sheep remain a special part of our German experience," Malarchik said.