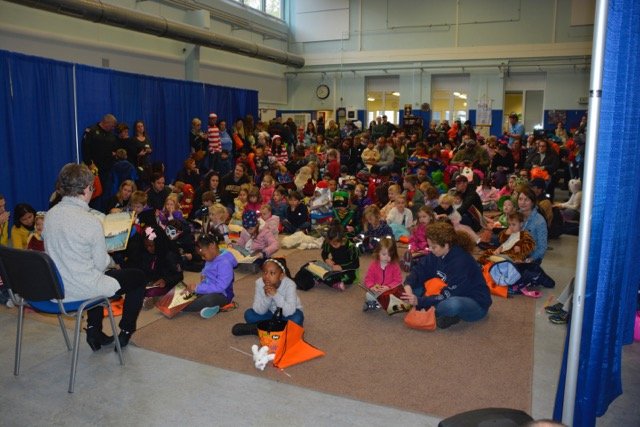 Story and photos by John Reese
USAG Stuttgart Public Affairs
A bitterly cold Saturday morning didn't dissuade costumed runners, walkers, babies in strollers and a half-dozen dogs from participating in the Great Pumpkin 5k, or keep hundreds of community members, especially little ones, from enjoying the garrison's annual Harvest Festival, Oct. 27.
The day began with runners doing laps around Patch Barracks' Husky Field just to stay warm before loudspeakers heralded the start of the 5k with Michael Jackson's "Thriller."
"This race is not timed, so no elbowing, no tripping and no fighting to the finish," said Cait Oblaender, USAG Stuttgart Family & Morale, Welfare and Recreation facility manager.  "Today everybody is a winner."
She added a warning that the course might be a little slippery due to earlier light rain that later became a dusting of snow.
"It's freezing!" Oblaender said with a shiver. "But it's not raining, so I'm not complaining."
The course, all on post and clearly marked with signage, was safely navigated by the 95 runners, about half of those Child and Youth Services cross country runners. Since the familiar race clock was for personal best only, names and times weren't recorded.
[slideshow_deploy id='41258′]
May Siegrist, herself a marathoner, didn't run, but endured the cold to cheer on her 16-year-old daughter, Isabella.
"We came from Hawaii," Siegrist said, noting she was born in the warm Philippines but grew up in Germany. "This weather is a very big difference from Honolulu. We just got here last summer."
By the time the 5k was done, the Harvest Fest was in full swing. Costumed kids went down a lane of 15 decorated cars for trunk-or-treat, played assorted games or made crafts, and a popular new addition, pony rides, were all busy. Parents, many of them in costume, enjoyed watching their kids have fun interacting with other kids.
A highlight of the morning was the reading of the children's book "The Bear and the Piano" by deputy to the garrison commander Kathryn McNeely. The Hub was packed with families, with more continuing to join as McNeely read the story. All of the children in attendance received a copy of the book, with many of them turning the pages following the narrative.
The well-attended fest drew to a conclusion shortly before the snow began to fall.