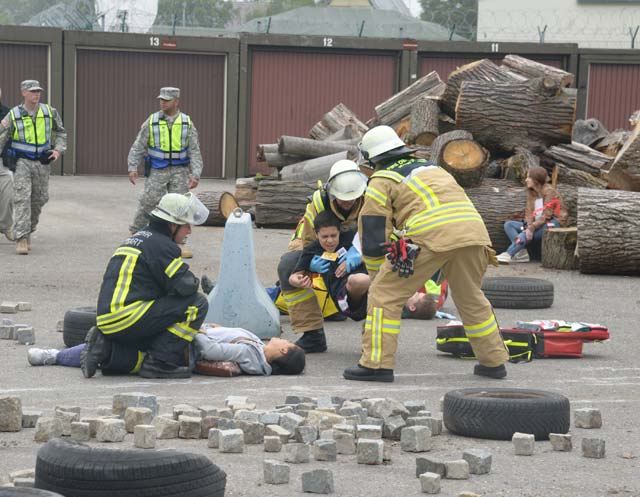 Antiterrorism Office
USAG Stuttgart
August is Antiterrorism Awareness Month, which is designed to raise awareness not only of the threat of terrorism, but also to encourage regular vigilance, heightened situational awareness and communication to report potential threats.
Here are a few things you should always keep in mind
The threat is real. According to an article by the Evening Standard, there have been more than 205 terrorist plots against European Union countries within the last year. Approximately 200 were foiled by European police and security forces. Research of media reports and documents shows that some U.S. and host nation military facilities were targeted in these plots, as well as locations with mass gatherings.
Awareness is critical. Knowledge is power, and just like in World Cup Soccer, defense wins championships. Every member of our uniformed services and the DoD civilian workforce are required to take the AT Level I Awareness Training course, which is available online. To further enhance situational awareness, it is encouraged that military dependents and DoD contractors also receive AT Level I training (it is not required for them to do so, but, it would increase both their knowledge and survivability where acts of terror are concerned). AT Level I can be easily accessed through at https://jkodirect.jten.mil/.
"See something, say something." Sometimes seemingly benign–but odd–situations can lead to terrible consequences, if they go unreported. This motto has contributed to preventing planned attacks, and is being strongly emphasized in August. "Trust your instincts; if a behavior or activity makes you feel uncomfortable or threatened, REPORT IT."  For example, regarding the arrest of the terror suspect, Sief Allah H. in the foiled 2018 Ricin Bomb incident in Cologne (Köln). Along with U.S. intelligence sources, the German security service had received a tip-off through an established public anti-terror hotline.
Awareness is our most certain defense against an act of terrorism.
What activities do I report?
People drawing or measuring important buildings
•Strangers asking questions about security forces or security procedures
•A briefcase, suitcase, backpack or package left behind
•Cars or trucks left in "No Parking" zones in front of important buildings
•Intruders found in secure areas
|•A person wearing clothes that are too big and bulky and/or too hot for the weather
•Chemical smells or fumes that worry you
•Questions about sensitive information, such as building blueprints, security plans or VIP travel schedules without a right or need to know
•Purchasing supplies or equipment that can be used to make bombs or weapons or purchasing uniforms without having the proper credentials.
These activities may sound familiar; they are the same types of things posted in airports, train stations, bus terminals, etc. Antiterrorism Awareness Month is designed to bring these reminders back into the spotlight, serving as a reminder that we live in times which require a heightened situational awareness and reinforced protective measures.
To report a suspicious activity, call USAG Stuttgart Antiterrorism/Force Protection Cell at 07031-15-2031/2032/2033 or 07031 15 2031/2032/2033.