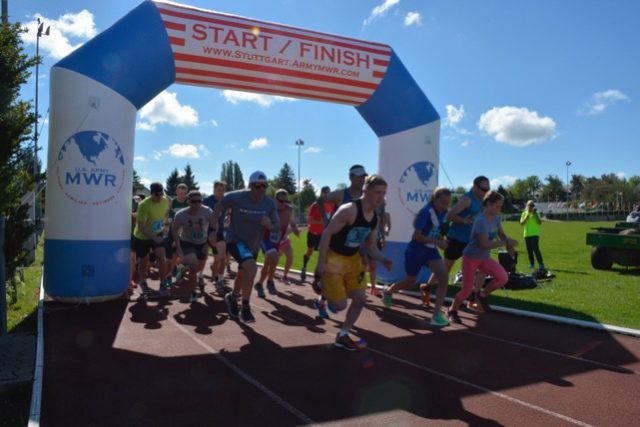 By John Reese
USAG Stuttgart Public Affairs
Although the weather forecast during the preceding week had warned of a 100 percent chance of rain, the dawn of May 20 arrived with blue skies over Patch Barracks for the running of the 14th Annual Cobblestone Classic.
The run follows a 5-mile, pre-World War II, historic cobblestone tank trail that links Patch Barracks and Panzer Kaserne, built for use by the 7th and 8th Panzer Regiments, 7th Panzer Division, respectively. The trail was made with cobblestones specifically to bear the weight of tanks designed in the 1930s.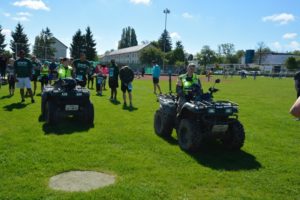 An hour before the race, U.S. Army Garrison Family & Morale, Welfare and Recreation team members had everything prepared for the roughly 135 runners, including two Soldiers from the 554th Military Police Company on quads to lead and follow the runners,  two water points manned by American Red Cross volunteers for hydration and a medic for safety. A large countdown clock ticked off the seconds before the start.
Felicia Hanes, fitness coordinator, FMWR, fielded last-minute questions from runners, support elements and her staff as she coordinated the final details before the classic.
"Follow the arrows," she advised runners. "Resist the temptation to go off on a side trail and get lost."
Registered runners participating for official times were required to wear a numbered bib, and those who made a late decision to run and didn't have bibs were instructed not to cross the finish line with the numbered runners so as not to throw off the times.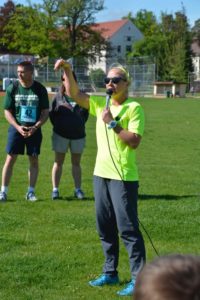 Sisters Grace, 16, and Sarah, 13, Reilein, ran with their dog Axl, while their dad, Cmdr. William Reilein, U.S. European Command, cheered them on in support.
"We're here for the fun," Grace said.
Other runners, some with dogs and others pushing baby strollers, offered different reasons for participating in one of FMWR's more popular runs. Lt. Col. Ben Fielding, U.S. Africa Command, pushed his toddler, Beatrice, up the hill in a stroller. His daughter McKinley, 14, and son Bennie, 16, ran with him.
"I'm going to give (pushing the carriage up the hill) my best shot," Fielding said.
Bennie said he was just "running to get to Panzer," while McKinley she was running for a mix of family fun and training.
"I run cross-country, year-round, with the high school or CYS (Child Youth Services) for practice," McKinley said. "I'm in 7th grade; I ran cross-country with the high school and won a couple of races."
For Fleet Master Chief Cris Addington, senior enlisted leader, EUCOM, the 5-miler was for fitness.
"I'm here to keep in shape, point-blank," Addington said "It's a beautiful day in Germany."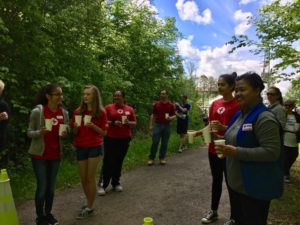 Assisting Hanes at the starting line was Morgan Abel, Panzer Fitness Center, who echoed Addington and others about the great weather.
"It's a gorgeous day," Abel said. "I was surprised; I got up this morning and it was foggy, but now it's beautiful out here."
A large group of runners from the Defense Information Systems Agency ran together as a team, while Sgt. Benjamin Freimann, Special Operations Command Europe, ran with his dog, Aren.
"It's something to do on a Saturday," Freimann said. "It's not sitting at home."
Commenting on the clear, blue sky, Freimann noted one can never predict the weather in Germany.
Col. Glenn K. Dickenson, commander, USAG Stuttgart, offered a few words to the runners about the steep run ahead of them moments before the starting pistol.
"What a beautiful day for a run. Most of you high-speed runners who've run this before have seen that the elevation change is pretty high," Dickenson said, adding it was his favorite run due to the trail's historic nature.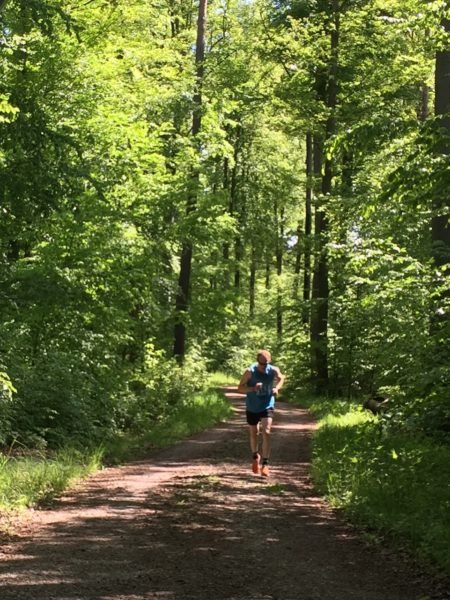 The five miles was covered in short order by physicians assistant Maj. Geoff Washburn, SOCEUR, who burned the uphill run in 29:05.
Winners received their respective placement medals in the following three categories: Overall, male and female.
Winners:
Overall
1st-Geoff Washburn               Time: 29:05
2nd-Anthony Baker                 Time: 31:40
3rd-Scott Andresen                  Time: 32:32
Male (not included in Overall)
1st- Sean Egan                             Time: 33:13
2nd-Steve Honeywell                 Time: 33:14
3rd-Justin Stokes                        Time: 33:40
Female:
1st-Bre Washburn                       Time: 34:19
2nd- Jenny Dupriest                   Time: 35:18
3rd-McKinley Fielding                Time: 35:32
"Medals not picked up at the awards ceremony can be picked up at the Patch Fitness Center," Hanes said.