By Rebecca Castellano, U.S. Army Garrison Stuttgart
STUTTGART, Germany – U.S. Army Garrison Stuttgart celebrated the Army's 245th birthday with a daylong event that saw hundreds of community members take to the track carrying the Army colors.
In fact, the Army colors were on the move throughout the night too.
On Thursday, June 11, Col. Jason Condrey and Command Sgt. Maj. Toese Tia, the USAG Stuttgart command team, departed the garrison headquarters carrying the Army flag across Panzer Kaserne to the track at nearby Stuttgart High School.
Soldiers, family members and Army civilians were joined by members of every branch of the service. The event was held simultaneously on Patch Barracks and Kelley Barracks. They began at 11:30 a.m. on Thursday, ran through the night, and culminated on Friday at 11:30 a.m. Participants ran, walked or rucked a minimum of 2.45 miles – to commemorate 245 years of Army pride – before passing the Army flag off to the next team.
"Our colors started marching, they started running and for 24 hours they were on the move," said Condrey, who described the run as a symbol of the Army's capabilities. "We're always ready. Ready for the call, ready to meet the need. Ready to support and defend. The Army never stops."
Proper physical distancing and sanitation measures ensured runners could keep the flag in motion while preventing the spread of COVID-19. Click here to see the online photo gallery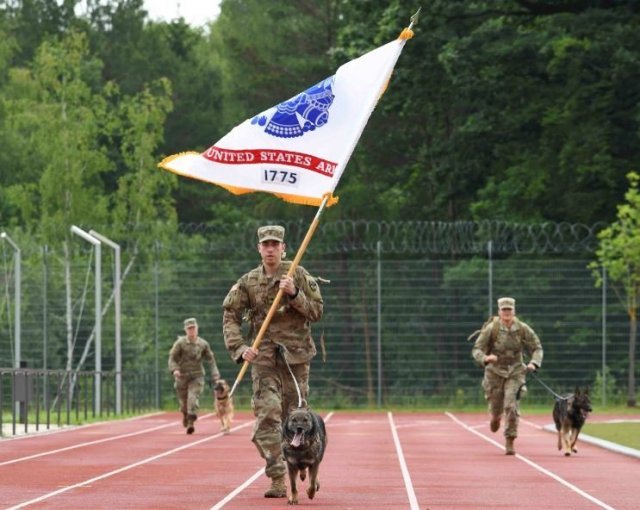 Sgt. 1st Class David Evans, a Cyber Network Defender at Defense Information Systems Agency, helped carry the flag for 12 miles between 1 a.m. and 3 a.m. on Patch Barracks. He said he was excited to test his endurance after several months of COVID-19 restrictions.
"I think the fact that we were able to keep the flag in motion at three different locations, for 24 hours shows that our soldiers have great self-discipline and take pride in their physical fitness," said Evans, who had to find alternative ways to workout due to gym closures during COVID-19.
Scott Carter, chief of operations at USAG Stuttgart, and a former U.S. Army noncommissioned officer joined the run at 5:30 a.m. at Panzer. As he grabbed hold of the Army flag, memories surfaced.
"I felt honored. It allowed me to reflect on my time as an active duty Soldier," said Carter, a former military police Soldier who deployed to Iraq and Kosovo. "I was there with my wife and other civilian employees. It made me miss the time of doing (physical training) and the camaraderie."
The 24-hour run concluded with a cake cutting ceremony on Panzer Kaserne. The Army's birthday is June 14. Condrey said the 24-hour event was inspiring to watch, as service members of all branches, civilians and DOD employees come together for the event.
"We found a way to celebrate 245 years of history and service in a safe way," Condrey said. "And I think it shows that we found ways to overcome restrictions and maintain mission readiness under difficult circumstances."
WATCH: Video News coverage of the 24-hour event ( Images by TSC Stuttgart, edited by USAG Stuttgart Public Affairs)

 WATCH: AFN Stuttgart news coverage (Facebook)