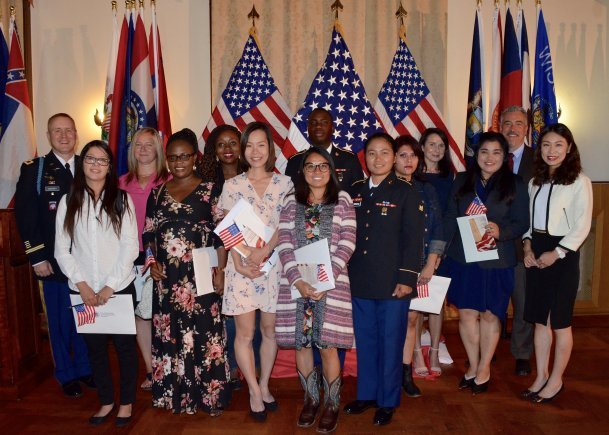 By Holly DeCarloWhite
USAG Stuttgart Public Affairs
Individuals from the Philippines, Ivory Coast, Poland, Mexico, Thailand, Ghana and Germany took the Oath of Allegiance and officially became American citizens. Juan Aguilar, USAG Stuttgart Passport Office sang the National Anthem followed by the administration of the Oath of Allegiance conducted by Roland Lyons, US Citizenship and Immigration Services field office director.
"It's a very special moment in time and I am excited to be part of it," said Col. Jason W. Condrey, USAG Stuttgart commander, during the opening remarks.
Keynote speaker Patricia Chang, Stuttgart Law Center volunteer attorney and civilian spouse, shared her own immigration story. Chang provides immigration consultation at the legal center on Kelley Barracks using her education and personal experiences to help others through the process.
"I know how hard this journey has been. Be strong, because I know your pain," Chang said.
Many of the individuals present at the ceremony began the process to become American citizens several years ago. Military travels were mentioned by ceremony participants as a common cause for delay. Separation of families can also occur at months on end during the process. Chang spoke to being separated from her husband for five months as she waited in Taiwan for her visa to come through.
Harriet Boateng, a Stuttgart military spouse born in Ghana, said that the process took her five years. Boateng began the application while in the US; she arrived in Stuttgart one year ago.
"It's been quite a journey, but all through it, I am happy that today I am finally a US citizen and it's a blessing," Boateng said.
Spec. Lady Diane Villanueva, 317th Maintenance Company, also began the process in the US before being stationed in Baumholder, Germany. Villanueva attributed her positive journey to US citizenship to patience, help from her military leadership and the USCIS.
"It takes a while, just have patience to do it, especially in the military, everything will go smoothly you just have to wait, be a good Soldier and service member, there is no other reason why you serve the military, why you serve America," Villanueva said.
Chang closed the ceremony with advice and encouragement for the new American citizens.
"We have equal opportunity to chase our American dreams … treat one another with respect and at the same time enrich this country with your own tradition and culture," Chang said. "Today you start writing the next great chapter in our American story."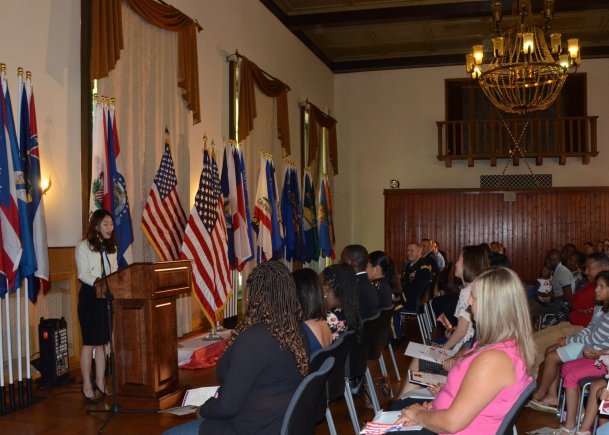 The event was followed by a community outreach session in partnership with the USAG Stuttgart Passport Office where 25 families attended to get assistance on questions relating to immigrating to the US, becoming a US citizen, obtaining a Permanent Residence Card and filling out the forms.
For more information on immigration, the Stuttgart Law Center hosts monthly immigration workshops on Kelley Barracks, or community members may find information on the U.S. Consulate website.