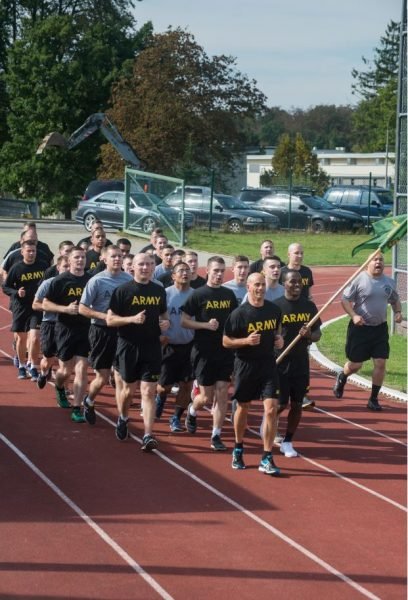 By Holly DeCarlo-White
USAG Stuttgart Public Affairs
Soldiers of U.S. Army Garrison Stuttgart celebrated the U.S. Army Military Police Corps' 75th anniversary with a 75 km Esprit de Corps relay run, Sept. 28 at Husky Field on Patch Barracks in Vaihingen.
The regimental run was coordinated by all MPs in Stuttgart with participants from U.S. European Command, U.S. Africa Command, 554th Military Police Company, Directorate of Emergency Services, Criminal Investigation Command and Customs Office, running laps throughout the day to reach the 75 km goal. The final lap was run in formation led by Col. David J. Segalla, Jr., division chief, ACJ34, AFRICOM.
"Seventy-five years, from the Marechaussee Corps, Washington's Army and the Continental Army to the MP Corps today, Sept. 26, 1941 is our birthday, but our legacy and history goes back much past that. Today it is important to remember all those that have come before us, Soldiers, Noncomissioned Officers, Officers, Department of the Army civilians, family members – those that all made it happen in the past. We will continue for another 75," Segalla said.
"What you represent is the future and the promise to keep the spirit of the MP Corps going forward. 'Assist Protect, Defend'…it is not always easy, not always fun…collectively you are serving your country in a noble profession."
View the photo album here.