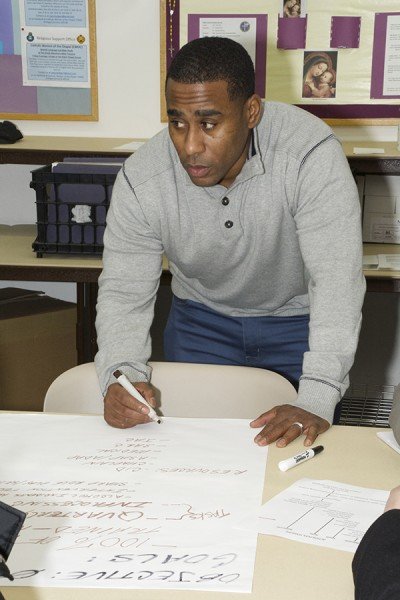 Story & photo by Greg Jones
USAG Stuttgart Public Affairs Office
U.S. Army Garrison Stuttgart hosted Sexual Harassment and Assault Response and Prevention trainers Jan. 12-23 to train new victim advocates who will serve in various organizations as Sexual Assault Response Coordinators.
The training, offered by U.S. Army in Europe, consisted of 80 hours of instruction and practical exercises in a variety of subjects from regulatory guidance on reporting sexual harassment or assault, to helping victims find resources and even assisting commanders in developing and implementing a SHARP program.
The training included 15 modules with numerous lessons and four capstone exercises. The subjects covered complaint procedures, both formal and informal, communication and active listening skills, legal issues and options for health care for victims, as well as other related topics.
"The students leave here with a basic skill set to serve as a victim advocate, and to advise the commander," said Master Sgt. Ronald Henry, a SHARP trainer with USAREUR G-1. "WE do the best we can to set the groundwork for them here, but the real learning starts when they get back to their units and start working as SARCs. The catch-22 is that we hope they never get a victim, but the only way they'll really learn is to help a victim of sexual harassment or sexual assault."
The mobile training team, consisting of two instructors, conducts training at various installations throughout Europe, and according to one student, the course packs a lot of learning into 80 hours.
"It has been by far one of the best training experiences of my career," said Sgt. 1st Class Tamari Lewis with the Joint Multinational Training Command in Grafenwöhr. "In the last two weeks I have learned much more about the SHARP and SARC programs than in the rest my time in the Army, so I feel prepared now going into the role of a SARC."
Lewis went on to explain that the additional training and skill set will of course be a positive factor in her career development, but the real rewards of training to become a SARC and ultimately serving in that role, are the rewards of helping others.
"I'm new to Germany, and I was originally going to go a different assignment, but when this opportunity came to me, I was honored," she said. "It feels good knowing you are able to help people and touch lives. It's a big responsibility and I know that, but I think I'm ready now, and I look forward to putting these skills to use helping people."
To find out more about the USAREUR SHARP program, including the SHARP MTT and other training resources, visit the SHARP section of the USAREUR website at www.eur.army.mil/SHARP.