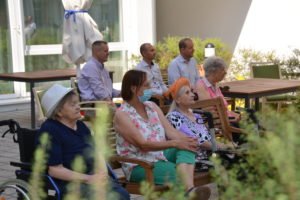 By Becca Castellano
USAG Stuttgart Public Affairs
The U.S. Air Forces in Europe Band's Five-Star Brass quintet performed for senior citizens at Böblingen and Singlefingen nursing homes on August 1. The six-member group of professional musicians offered to perform the two concerts while in the Stuttgart area for change-of-command ceremonies.
Master Sgt. Carl Eitzen, the non-commissioned officer in-charge of the ensemble, said it was great to perform live for such a unique audience after so many months of virtual performances.
"A lot of individuals in nursing homes might not get out much, especially in these times, so we wanted to bring the music to them and show them our gratitude for their support of the U.S. military in this region."
The band's lineup of songs embraced both cultures with a number of German and American songs, from polka and hymns to John Lennon's "Yesterday". Eitzen hoped the music reminded the seniors of happy times in their lives.
"Music is like a time machine," said Eitzen. "If I hear a piece of music, it might remind me of something I did 20 years ago. So, if we're playing a piece from their earlier years, that can conjure up some joy and happy memories for them."
One senior citizen, Alfredo Sliltz, said she remembered some of the songs from her youth when she knew other American servicemembers. Another, Sonja Winterbauer, said the live music brought her back to her childhood in South Africa.
"I haven't heard live music that nice for a long time," said Winterbauer. "I have been here for a while now and it made me feel homesick for South Africa and my childhood, but it also made me very happy. They can come back anytime."
Residents, varying in age from mid-sixties to mid-nineties, listened from their balconies or the courtyard and clapped or tapped their feet along to the beat. For Eitzen, who has been in Germany less than a year, music is the best way to overcome the language barrier and give back to the host-nation.
"Music is an international language," he said. "You may not understand each other when you talk, but through music you can communicate so much. That's what makes it so powerful. It builds bonds and bridges when spoken language creates barriers."