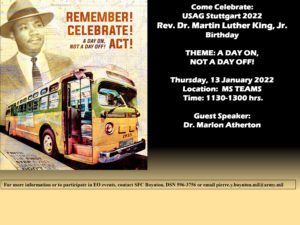 By USAG Public Affairs
Join U.S. Army Garrison Stuttgart in celebrating the life and legacy of Martin Luther King Jr., Thursday, Jan. 13 from 11:30 a.m. – 1 p.m., via teams (see link below). Hosted by the garrison's Equal Opportunity Office, the event will include a history of the civil rights movement, a biography of King and guest speakers.
One of America's great civil rights leader, King led the Montgomery Bus boycott and was one of the key leaders during the 'March of Washington.' The civil rights movement would eventually lead to the enactment of the Civil Rights Act of 1964, The Voting Rights Act, and the Civil Rights Act of 1968. Tragically killed in 1968 at the age of 39, King's deeds and words have inspired generations to strive for a more perfect union.
Note: American's are officially encouraged to follow King's footsteps and volunteer in their community on this holiday, as MLK Jr. Day is observed as a day of service, rather than simply a day off.
---
Teams link to the observance: https://dod.teams.microsoft.us/l/channel/19%3adod%3affeeb0a82dc54e54918dbbc709340ff1%40thread.skype/ETHNIC%2520OBSERVANCES?groupId=489397ce-6414-423c-b0d7-070562b0ff81&tenantId=fae6d70f-954b-4811-92b6-0530d6f84c43