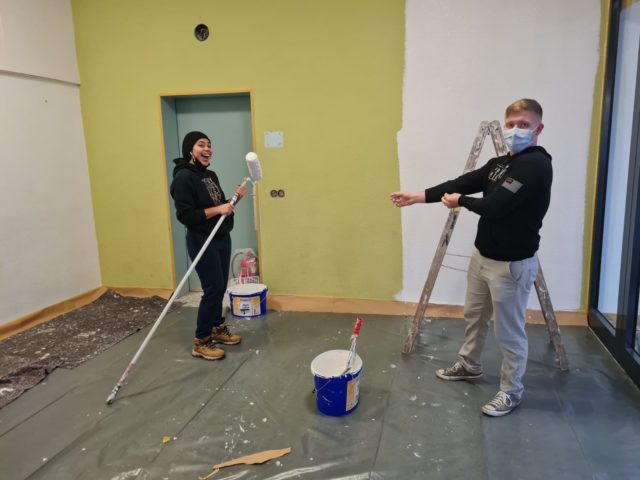 Story by Bardia Khajenoori
USAG Stuttgart Public Affairs
Students at a Böblingen school returned from their Christmas holidays to freshly-painted hallways thanks to U.S. Marines based half-a-mile down the road at Panzer Kaserne. 
Around a dozen young men and women from U.S. Marine Forces Europe and Africa (MARFOREUR/AF) contributed to the project to paint hallways at Eichendorffschule Böblingen in the first week of January.
"Volunteer opportunities are a great way for Marines to express different interests, learn a skill, or connect with the people they're surrounded with on a day to day basis," said Sgt. Sophia Lozano, vice president of the local Single Marine Program (SMP). "Some Marines have shown interest in getting to know or better understand the local German community while they're here, and this helps them do that." 
Organizers were put in touch with the Eichendorffschule after reaching out to the garrison's community relations staff for ideas and contacts. 
Alexander Groß, head of the primary and secondary school, which serves around 350 students, explained that the painting was necessary after construction work last year, but due in part to COVID-19, had become a lower priority. With volunteer manpower secured, Groß was able to get supplies and a professional painter to oversee the work, leading it to be completed potentially years before it otherwise might have been. 
"I couldn't have convinced the city to do this now without the help we had from the Marines, so I'm very, very appreciative and glad about how it worked out in the end," Groß said. "The color is on the wall and the school is looking very nice again." He added that the aesthetic touch-ups are a morale booster for the students and can help motivate them to keep the building in good condition. 
Although painting the Eichendorffschule was the first organized off-post volunteer effort for the SMP, it won't be the last. "It's kind of a kickoff project for what SMP wants to do with MARFOREUR/AF, as far as getting us, as a unit, more connected to the local community," Lozano said. 
Possible future engagements include helping out at animal shelters and orphanages. 
"We want to start here, but also be able to have Marines branch out into other types of institutions too," she said. "It's something we want to keep going even after we change duty stations, and have the people who remain here continue these relationships." 
Marines may return to the Eichendorffschule later for participation in a sports day or language exchange activity, and Groß is also working to create chances for his students and those from on-post schools to spend time together too. 
"Both sides can win from this because everyone can learn something from the other, and maybe show the community that even though we are here from two different countries, we can do something together," Groß said. "And it's learning not only on a language level, but on a social and emotional aspect as well." 
Lozano shared similar sentiments, pointing out that in addition to building goodwill, volunteering off-post can increase cultural understanding and provide a richer overall experience for Stuttgart-based Marines.
Groß, in his capacity as headmaster of the principal board for all Böblingen-area schools, said he has already encouraged colleagues to reach out if they have a potential service project or opportunity for mutual engagement.
"This is not the end, but rather just the beginning [of these partnerships] for me."