Story and photos by John Reese
U.S. Army Garrison Stuttgart Public Affairs
With a huge turnout, a club of German bikers and a surprise appearance by the U.S. Army Garrison Stuttgart command team, the community enjoyed pizzas and bowling at the 2017 "Strike Out Child Abuse" event, April 13.
Sponsored by the garrison's Army Community Service Family Advocacy Program, 386 participants attended the Child Abuse Prevention Month (CAPM) event at the Galaxy Bowling Entertainment Center, Panzer Kaserne.
Some of the youngest children didn't understand the significance of the evening. For them, it was just about having fun with other kids. However, the older children and adults in attendance understood the importance of CAPM.
"Part of Striking Out Child Abuse is learning how to be a good parent, and it's about adults learning to build good relationships with children," said deputy to garrison commander, Heidi M. Malarchik. "This is an event designed to have fun."
Col. Glenn K. Dickenson, garrison commander, took to the center's PA system to get the event started. He and Command Sgt. Maj. Mariano Z. Alvarez, garrison senior enlisted adviser, entertained participants later with a brief, simultaneous and impromptu juggling demonstration.
"Our surprise guests were the garrison command team," said Kerry Dauphinee, Exceptional Family Member Program coordinator and the organizer for Strike Out Child Abuse.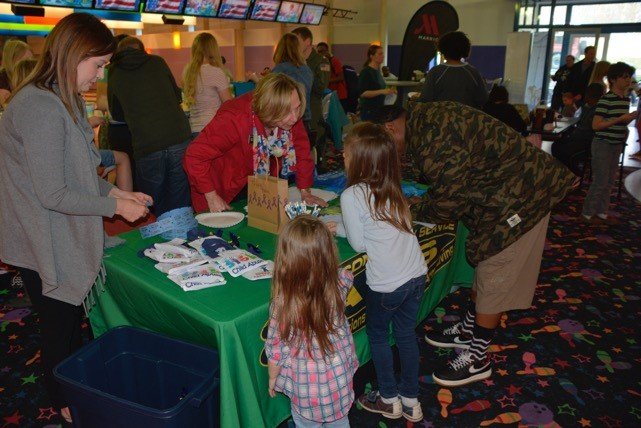 Participants had three opportunities per family to take home something special: by registering for the event, by filling out a survey and a trivia challenge created by the FAP. Some families took home one of six Reel Time family packs provided by the Exchange theater on Patch Barracks, or one of six brunches provided by the Sindelfingen Marriott, Dauphinee said.
"We had a lot of support from the ACS and Military Family Life Consultant staffs, a FAP intern, and 'Poppa Bear' from Bikers Against Child Abuse," Dauphinee said.
A dozen motorcycles ridden by BACA club members were parked outside of the Galaxy, adding a touch of rolling thunder in support of the evening.
Clutching his teddy bear "Cubby," 5-year-old Sam Bolton was attending Strike Out Child Abuse for the second time. His mom, Libby, came to support the awareness event and brought Sam so he could enjoy bowling and playtime with other children.
"We came last year. He enjoyed it," Bolton said.
When told he'd be eating pizza, Sam shouted "Good!"
"I came to have fun with my mom and sister," Lauren David, age-11, said, adding she knew the point of the evening was child abuse awareness.
Her mom described the event as "awesome," and said it was great to see such a huge turnout and for the garrison command team to attend.
"We surpassed last year's Strike Out Child Abuse campaign," Dauphinee said, adding that there were about three times as many community members present as compared to the 2016 event.
The adults enjoyed the evening with their children at the same time as noting the importance of child abuse awareness.
"We're here to support the fight against child abuse," said Spec. Vanisa Street, attending with her husband, Cameron, and their young son, Micah.
"I was actually abused as a child," Cameron Street said. "We're here to support the cause — child abuse awareness."
The garrison command team encourages parents to have fun with their children, Malarchik said.
"This is exactly what this event is designed to do," she said. "We learn to have fun with our kids and build those great relationships, and chances are, we're going to be able to Strike Out Child Abuse."