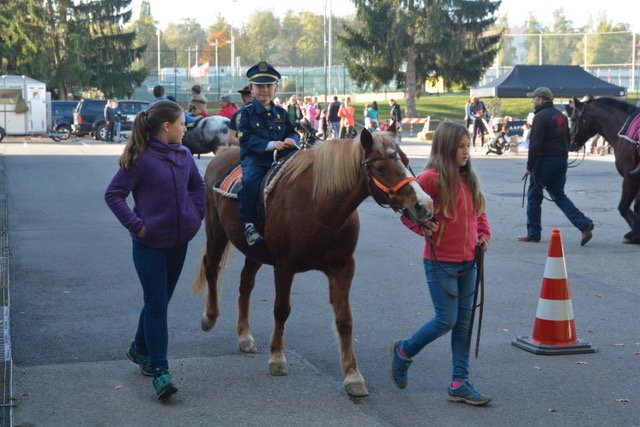 Story and photos by John Reese
USAG Stuttgart Public Affairs
Spectators on Patch Barracks shouted encouragement, especially for children and parents pushing strollers, as they made the final dash in the Great Pumpkin 5k fun run, Oct. 26.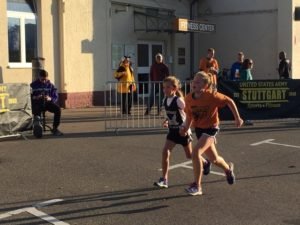 Children played games, rode ponies and listened to a story read by of the garrison's senior noncommissioned officer at the Harvest Fest, as costumed children simultaneously went trick or trunking along a row of vehicles parked outside of the Patch fitness center.
Runners couldn't have asked for better weather, especially compared to the freezing temperatures and slippery conditions last year. This time the temperature was warm enough for short sleeves while cool enough for comfortable running, with only a few high clouds under a bright sun. Some of the 315 runners wore costumes or masks, and one teenager wearing a large jangling as he jogged. A generous number of dogs, and babies in carriages, enjoyed the fun run.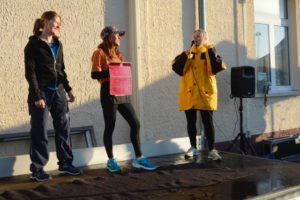 "This is an untimed fun run, so we're not tracking winners or times for participants," said Anne-Marie Harcrow, fitness coordinator, USAG Stuttgart Family and Morale, Welfare and Recreation. "We won't have a record of who finishes first."
The 5k was supported by volunteers from the American Red Cross, Stuttgart Station, who offered assistance for cuts, bruises, insect stings and dehydrated runners.
SHS senior and cross-country runner Jack Montoya, 17, crossed the finish line second with a time of 17:10, regaining his breath after sprinting to catch the first guy across the finish line.
"This guy–I don't know who he was–caught me on the third corner to the fourth kilometer," Montoya said. "I tried to catch him, but he was a little too far ahead."
The fastest runner didn't even stop after crossing the finish line; instead, he continued on for another 5k lap.
A dog named Delta, tugging along her human, Krystle Mize, was the first canine across the line.
Following the run, the MWR team rapidly broke down the setup of support tables, sound system, timer clock and big inflatable start/finish arch. Their work was done so quickly and efficiently that most participants didn't notice, only that suddenly they vanished with all traces.
[slideshow_deploy id='47532′]
"We have a really solid team out here," Harcrow said. "Everyone in Sports & Fitness deserves a shout-out. We do work some really long hours for events, and there's really no one else than the team that we have. We get along very well; we help each other out. I enjoy that a lot."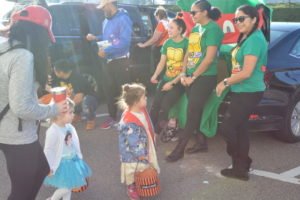 Anchoring one end of the trunk or treat were garrison BOSS members.
"BOSS is here helping out, giving back to our community as we like to do, with trunk or treat," said BOSS president Staff Sgt. Cassandra Gonzales. "We are passing out candy to all of the children who come to our vehicle."
The Harvest Fest was held in the parking lot of the Stuttgart Youth Center, better known as The Hub, had multiple games, sidewalk chalk, a bouncy house and the most popular attraction, pony rides or the little ones. As part of the fest, Army Community Services had a health and wellness-themed table.
"We set up the pumpkin painting for the kids," said ACS coordinator Basil Forrest. "My youngest is 21, so for me, this is fun."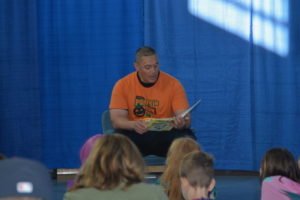 School liaison officer Joe Holder used a bullhorn to summon a youthful audience to hear Command Sgt. Maj. Toese Tia, battle buddy to the garrison commander, read "A Sick Day for Amos McGee" to a large audience of children.
"The reading by Command Sgt. Maj. Tia was sponsored by the School Liaison Office's Resiliency Through Reading program," Holder said, adding that every child in attendance received a copy of the book.
Tia, who completed the 5k, didn't just read the book; he also acted out some of the story for the very young audience. The children were attentive and focused, responding to his while interacting with
The next big Sports & Fitness event will be the annual Army-Navy football game, this year being held on the new field on Panzer Kaserne.
"For the Army-Navy game, we'll have some cool stadium gifts for the first 100 fans," Harcrow said.