By Robyn Mack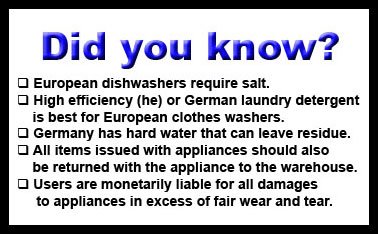 USAG Stuttgart Public Affairs
The free use of European specification dishwashers, refrigerators, and washing machines is a benefit afforded to Department of Defense civilians and military personnel stationed at Army installations across Germany.
The U.S. Army Garrison Stuttgart Housing Office is responsible for maintaining and distributing the appliances to new community members. Recently, however, the process has slowed, leaving some without the in-home convenience.
According to Franz Bergmeier, USAG Stuttgart's deputy housing director, the slowdown is due to poor in-home maintenance and a procurement process that can't keep up with the rate at which the machines need to come out of service due to wear or age.
"Appliances that are issued to personnel in Germany are centrally distributed from the U.S. Army Installation Management Command Europe in Sembach, Germany," the housing deputy director said. "They make bulk orders of new appliances as well as deliver the needed appliances to bases across Germany as we request them."
Due to recent budget restraints, replacing worn and aged equipment has stopped, according to the veteran housing professional, leaving the supply depleted or non-existent.
"There is currently a waiting list for some appliances for Stuttgart community members," Bergmeier said. "We have our order in and are doing our best to keep our current inventory serviceable. But, our customers play a vital role in helping us maintain the resources we do have."
"Perhaps the most important thing you can do is treat your appliance with proper care and keep it clean," said Robert Bradley, USAG Stuttgart household appliance coordinator. "Become familiar with how to clean and use the appliance – and if you don't know, ask."
For questions on appliance use, email usarmy.stuttgart.imcom-europe.mbx.dpw-hsg-cfmo@mail.mil, an appliance inspector will respond via email or phone. To make a maintenance request contact the Service Order Help Desk at DSN: 421-6200/civ. 0711-729-6200. Personnel should be home for the appointment.
Tips for European appliance maintenance and use
General
Do not use sharp objects, like kitchen knives, to clean an appliance, or chip frost from a refrigerator.
Use only German or American high efficiency detergents to prevent excessive suds which can overflow and damage electronic panels.
Visit http://www.manualslib.com to find the manual for your appliance, if a specific model manufacturer's manual is not available, look for a comparable piece of equipment to serve as a guide.
 Washer
Use only appropriate detergents.
Keep the washer door open after use. This will keep the machine from developing a sewage smell.
Clean soap tray, door seal and drain filter frequently.
Dryer
On-post residents have U.S. dryers, off-post residents are issued German condense dyers.
Clean U.S. and German dryer lint filter after each use to prevent fires. On German condense dryers the lint filters are inside the door and on the bottom of the dryer opening.
Do not dry rubber or plastic materials, or items containing these materials, like bathmats, bibs, or blackout lined curtains.
In German condense dryers clean the condenser located behind the small door on the front of the dryer every 2 to 3 months.
Empty German condense dryer water drawer after each use.
Failure to clean dryers can lead to moisture buildup which can cause damage to electric panels.
 Dishwashers
In addition to detergent and rinsing agent, dishwashers require salt to soften the water. The dishwasher salt is available at the commissary or on the economy. If you don't use the salt, lime will build up in the dishwater, pipes and nozzles, and cause dishes and glasses to turn grey. The salt compartment is in the base of the dishwasher, soap inserted here can damage the dishwasher and the member can be held liable.
Ovens
Do not place heavy loads on oven doors. Tipping the range can cause injuries, especially if pots or pans filled with hot food slide off the range. Children sitting or standing on the door may break the door or cause the range to tip.
Ensure the range exhaust hood filter is cleaned or replaced often. This will keep the grease from building up and catching fire. You can clean metal filters in the dishwasher.
Do not place cold cook pots on hot ceramic surface. The temperature difference will cause the ceramic top to crack.
Remove boiled over food residue immediately. Failure to clean will cause permanent burn stains around the burners.
Clean ceramic stove top regularly with appropriate cleaner to maintain a clean and functional surface.