By Rick Scavetta
U.S. Army Garrison Stuttgart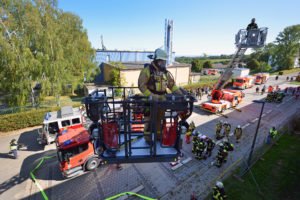 When fire alarms ring out at U.S. Army Garrison Stuttgart, German firefighters are often first to respond thanks to a longstanding partnership with host nation officials.
Through mutual aid agreements, the garrison's 31 paid firefighters, based mostly at Stuttgart Army Airfield, can rely on support from professional and volunteer fire stations in the area, said Karl Dörsam, USAG-Stuttgart's fire chief.
"We have strong relationships with local firefighters, in Stuttgart, Böblingen and Esslingen," Dörsam said. "The host nation firefighters respond to the garrison installations, when they are called directly from 112 or are notified by our control center. We dispatch our units simultaneously."
For example, when a car caught fire last year outside of the Patch Barracks commissary, someone called 112 – the emergency number in Europe.
"In this case, the call went to the host nation dispatch center downtown. They dispatched their units, a legal requirement, and notified us simultaneously," Dörsam said, adding that Battalion 5, profession-al firefighters from Degerloch are first responders for Patch Barracks.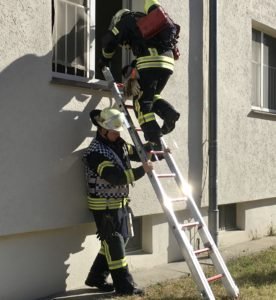 Meanwhile, German volunteers nearby in Vaihingen rushed to their firehouse, donned gear, jumped on their trucks and rolled, Dörsam said. USAG-Stuttgart firefighters began their response as well.
"Whoever gets there first takes the first action," said Dörsam. "In this case, the host nation was first and we were second, so we joined in."
If USAG Stuttgart receives a report of a fire in progress or a medical emergency on any of the garrison's installations, they immediately contact host nation fire crews to respond, Dörsam said.
In 2019, host nation firefighters responded to 19 emergency calls on post. This year, so far, they have responded 11 times.
Most of these calls are for alarms on Robinson Barracks, serviced by two local departments, Battalion 4 at Feuerbach and Battalion 3 at Bad Canstatt.
"It's the one installation where the first response is always the host nation because of our traveling distance," Dörsam said.
On Sept. 19, on Patch Barracks, six German fire trucks responded to an alarm set off by unattended cooking. On the same day, a resident spray painting in a stairwell also set off an alarm. Again, German firefighters were dispatched, said Len Fagan, USAG-Stuttgart's assistant fire chief, who oversees fire prevention.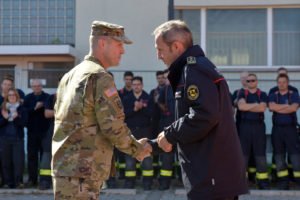 "The host nation responded. They got the calls first," Fagan said, adding that when people dial 112 directly, they reach local dispatchers compared to dialing through the USAG-Stuttgart App and reaching the Army control center.
Seventeen years ago, shortly after Dörsam began as fire chief, he took part in an annual exercise with local firefighters on post. It was a small affair. But, he began making connections and the exercises grew. In 2019, dozens of Stuttgart firefighters took part in Stallion Shake, a large exercise at Robinson Barracks.
Dörsam is part of several local fire and emergency planning councils. During recent COVID-19 operations, he often called his civilian counterparts to discuss approaches to service. Many of USAG Stuttgart's firefighters – all Germans with host nation and U.S. certifications – are also on local volunteer crews.
For the past six months, as the garrison faced the coronavirus pandemic, USAG Stuttgart firefighters maintained a presence near Panzer Kaserne in Böblingen. Most of the garrison's firefighters are permanently stationed at Stuttgart Army Air Field, just south of Stuttgart's civilian airport. Before COVID-19, Stuttgart had more than 130,000 flights and roughly 11 million passengers annually.
"For the airport, there is an official agreement for in-flight emergencies, both the German and U.S. firefighters respond," said Mike Ambacher, USAG Stuttgart's assistant fire chief for operations.
In October 2019, when a blaze broke out in the basement of the Mövenpick Hotel Stuttgart, USAG Stuttgart fire crews also supported their German counterparts, Ambacher said.