By Geoffrey Morris
USAG Stuttgart Citizen volunteer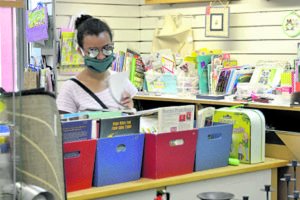 The Stuttgart Community Spouses' Club (SCSC) Thrift Shop, located on Patch Barracks, is the "go-to" place for what you need to settle into life in Germany.
From 110 and 220 electronics and appliances, books and games, uniforms and clothing ranging from everyday wear to formal attire, and household goods, there's something for everyone, according to SCSC President Camey McGurk.
"Stuttgart's community is very generous, and as a result it has one of the best military thrift shops I've shopped at," said Sarah Evans, a frequent thrifter. "The store is clean, the staff and volunteers are friendly and they have a great selection of high quality items."
Evans is one of several "regulars" who visit the thrift shop in search of hidden treasures. Those treasures come directly from the community in the form of donations, which are brought in by appointment Monday, Wednesday, Friday and Saturday and sorted upon arrival by employees and volunteers.
"The store is clean, the staff and volunteers are friendly and they have a great selection of high quality items."
Damaged and broken items are separated out while the rest are cleaned, priced and placed on the sales floor. Holiday goods are sorted and stored in preparation for their season with Thriftmas, a massive three-day Christmas decor sale, being the highlight of the year. This sorting process takes most of the employees' time on donation days.
"It is on these days that we have the most paid staff here, 3-4, the rest of the people on site are volunteers," SCSC Member Kate Julazadeh stated.
Unlike many post thrift shops which are solely manned by volunteers, SCSC employs community members to run the day-to-day operations. But the store relies on several volunteers to open as often and as consistently as they do. "This is the first post thrift shop I have seen in our 20 years of service that is open this many days and for this many hours each day," said Evans. "Normally when you're relying on volunteers it can be harder to maintain a schedule."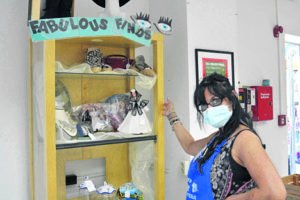 Army regulations allow only 20% of proceeds earned at an on-post thrift shop to be used to pay employees. With COVID restrictions limiting the number of customers allowed in the SCSC Thrift shop, sales have been greatly impacted, forcing employees' hours to be cut. In order to process the volume of donations, maintain store cleanliness and run the register, McGurk said volunteers are needed now more than ever.
Evans, who also volunteers, said there are several benefits like getting the first peek at donations, 50 percent off all purchases any day you volunteer at least two hours, and the good feelings associated with giving back.
"All of the money raised through the thrift shop goes into the community through scholarships, grants, and community enhancement activities and projects," said Evans. "So volunteers and shoppers can know their time and money is being spent on a good cause."
To learn more about the thrift shop mission or to sign up to volunteer or donate, visit https://stuttgartspousesclub.org/ or follow them on facebook.