By Holly DeCarlo-White
USAG Stuttgart Public Affairs
The annual Fall Harvest Fest was held on Patch Barracks, Oct. 28, with games and activities for the entire family.
"We do this to give back to the community and have something fun to do together during the fall," said Corrie Schwab, director of Parent & Outreach Services for Child & Youth Services (CYS).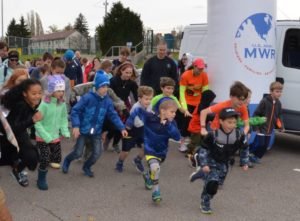 The cool, windy day did not stop community members from coming out and enjoying the fun. CYS setup games, crafts and contests for all ages. At The Hub Youth Center, Heidi Malarchik, deputy to the commander, U.S. Army Garrison Stuttgart,  led a reading of "The Snail and the Whale," to a packed crowd as part of the afternoons "Resilience Through Reading" session. Families in attendance also received a free copy of the book.
As everyone filtered outside to get to the first one-mile fun run, CYS staff prepared for the next decorated pumpkin contest, followed by most original, scariest, and best dressed costume. Popular costume trends among families included Disney's Moana, Star Wars, good vs. evil, superhero's and a variety of animals. Pets also accompanied families in full costume.
Olivia Hunter, 5, dressed as an owl, and her brother Cylus, 3, came as Buzz Lightyear.
"My favorite was the pony rides," they both exclaimed. This was the first time either had ridden a pony.
Throughout the afternoon, various organizations lined the parking lot and opened their decorated trunks to eager trick-or-treaters.
Lacey Moyer, representing Mothers of Preschoolers (MOPs) has participated in the Halloween Trunk and Treat activity for the past two years.
"I love Halloween … for the little kids that are scared of some of the things on-post for the bigger kids; it is nice for parents to get a little taste of home. This is a good opportunity for the kids to get out and be in the community, and it is a great thing to bring your friends to, or bring a new friend to," Moyer said.
The festival concluded with the Great Pumpkin Run, an annual Halloween themed 5k fun run that started and ended at the Patch Fitness Center. Of the nearly 200 runners, Felix Guerra and Bre Washburn were the first male and female runners to cross the finish line in the untimed run, followed in second by Dan Welsh and Jenny Dupriest.
View the Fall Harvest Photo Album
For upcoming fun runs and activities, visit https://stuttgart.armymwr.com.