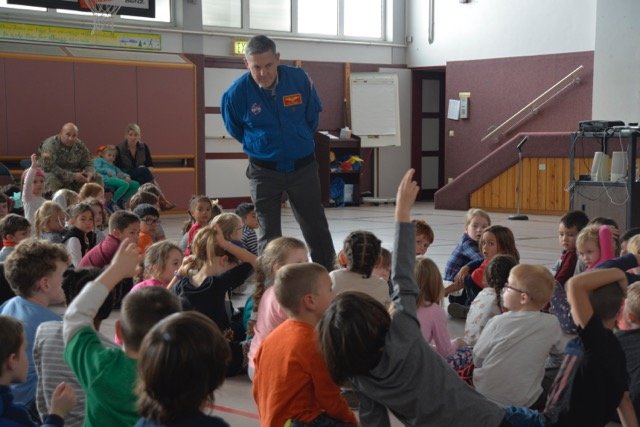 John Reese
USAG Stuttgart Public Affairs
Kindergartners and other students in the Stuttgart military community schools got an out-of-this-world experience, Oct. 24-26, when they were visited by a senior NASA official and astronaut. But for one 6-year old Patch Elementary School kindergartner, he was Grandpa Bob.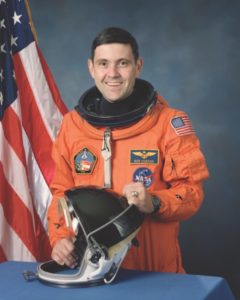 Robert D. Cabana, retired Marine Corps colonel, astronaut on four space shuttle missions (two as pilot and two as mission commander) with more than a thousand hours logged in space and now director of the Kennedy Space Center, Florida, spoke in Toulouse, France, and took a few days of leave to visit his son, Marine Corps Lt. Col. Jeffery Cabana, European Command. While in the neighborhood, he offered to speak to students of all grades attending U.S. Army Garrison Stuttgart schools, including his granddaughter Lily's PES kindergarten class, Oct. 24.
"Even in the job that I'm in now as director of the Kennedy Space Center, I try and do community outreach on a regular basis," Cabana said, adding he speaks to students at schools near the Space Center and through a distance learning network. "I think it's really important to share my passion with them, to show them that you can achieve whatever you want if you apply yourself."
Cabana is a pilot, test pilot and astronaut. He narrated a slide show for students about the dawn of aviation, the space program and his part in it, to include commanding STS-88, the mission that brought the first U.S. module of the International Space Station (ISS) aboard the space shuttle Endeavour, to link up with the first Russian module, Zarya (Dawn), Dec. 4, 1998. During that 12-day mission, the two modules were connected; since then, the ISS has since grown in size to be visible in orbit by the naked eye.
Lily's fellow kindergartners paid close attention as Cabana spoke, and when the time came to ask questions, almost every hand shot up. While some of the questions are what one would expect from 5-6 year old children, most of them were interesting and thoughtful. Cabana was twice asked about Pluto, and told the students about the New Horizons spacecraft mission that sent back incredible photos of the dwarf planet in July 2015.
"Pluto's a great planet, even if it's a dwarf planet," Cabana said.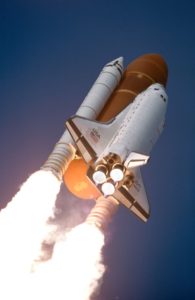 Other questions included the distance to the moon (230-240,000 miles); how the sun works; how air and water are filtered and recycled in space; what astronauts eat (some food is similar to MREs, some is irradiated, some in bags that you eat or drink from a straw); what liftoff is like ("You sit in your seat, lying on your back, and it's like having your dad sit on your chest," Cabana described. "After the rockets cut off, the shuttle is orbing the earth at 17,500 mph."); what it's like in zero gravity ("Its awesome! You can just float."); meteors, and the return to Earth (after detaching from the ISS, you hit the thrusters over Australia to land in Florida).
While describing the hot plasma field, the area in front of the shuttle's heat shield during re-entry, Cabana asked the students to briskly rub their hands together and then put them on their cheeks to demonstrate the effect of friction encountered as spacecraft enters Earth's atmosphere.
More questions followed about moon dust (it's sharp and dangerous because it wasn't worn down by erosion); if are there toilets on the ISS ("Boy, I sure hope so," Cabana said. "I wouldn't want to be in space for two weeks aboard the space station without a bathroom." He said there are two aboard the ISS, one Russian, one American, and described how the astronauts use a toilet in zero gravity.) and two very surprising questions and answers about temperatures in space and Wi-Fi.
"Without an atmosphere, it can get as cold as 150 degrees below when working in the shade, and as much as 300 degrees when working in the sun," Cabana said. "The suit protects us against extreme temperatures and micro meteorites."
And there is Wi-Fi in space.
"That's a good question," Cabana said "On the International Space Station, laptop computers have Wi-Fi linked to the internet, and on the space shuttle, too, a separate computer let astronauts send emails to their family and friends."
There's also a telephone that uses the internet. Cabana told a story about how he was sitting in his office one day when a fellow astronaut called from space, saying it was so clear "it was like he was in the next room."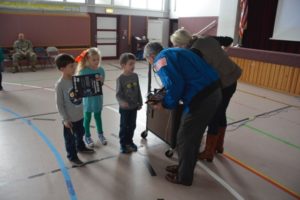 As he finished the Q&A, Cabana encouraged the students to embrace science and math as fun, and to keep trying at what they want to do, even if they don't succeed on the first go.
"Science and math are really important today. And it ought to not scare children. It's all on how it's presented," Cabana said. "You can help kids find uses for it and show that it's not as difficult as some might think."
Following the presentation, Cabana spoke about the future of NASA.
"A lot of people think NASA has shut down after the space shuttle stopped flying, and nothing could be further from the truth," he said. "We've transformed the Kennedy Space Center into a multi-user spaceport, using both commercial and government operations to and from low Earth orbit and beyond."
Currently, two companies are competing for flying crew to the ISS through the Commercial Crew Program (Boeing with the CST-100 Starliner spacecraft on an Atlas V rocket, and Space X with the Crew Dragon launching on a Falcon-9 rocket). Both of those companies hope to be flying test flights in 2018 to demonstrate their capability.
NASA is also building the Orion Multi-Purpose Crew vehicle, a spacecraft with a crew of four that Cabana says will allow humans to go back to Earth's moon and eventually on to Mars. By the end of 2017, NASA will have constructed all the hardware and facilities necessary to support the processing and launch of that rocket.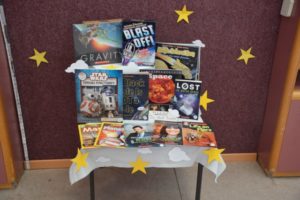 There are also additional commercial companies that are part now of operations at Kennedy Space Center. By bringing in commercial partners, NASA was able to maintain one of the original launch pads used for the moon and shuttle missions, a high bay end vehicle assembly building, a mobile launcher and one crawler transporter (a tracked vehicle that is the largest self-powered vehicle in the world). Modifications completed by Space X means the launch systems can support two versions of the Falcon-9 rocket; the Dragon for cargo payloads and the Crew Dragon for humans. Cabana said there have already been 11 successful launches of the Falcon-9 rocket off that launch pad in 2017.
"We have a very bright future," he said. "I think this is an exciting time for human space flight, for space flight in general as we work together with our commercial partners to make our nation even greater."
For Lily, it was just fun to have her grandfather visit and meet the other children.
"I like that he was talking about space to all of the classes," she said.
When asked if she wished to follow her grandfather into space, Lily she'd really like to be a pilot, astronaut and veterinarian who saves animals in the ocean.
"Going to space would be fun," she said. "If (her fellow kindergartners) would like to be an astronaut, they'd have to keep flying, and trying and trying."