Information courtesy of U.S. Army Garrison Stuttgart
Department of Human Resources, Transition and Retirement Services
The Transition Assistance Program, a portion of Soldier for Life for Army personnel, is a process designed to aid all service members transitioning to civilian life from the military.
The program provides members and their families with useful tools that support understanding in veterans' benefits and the employment search.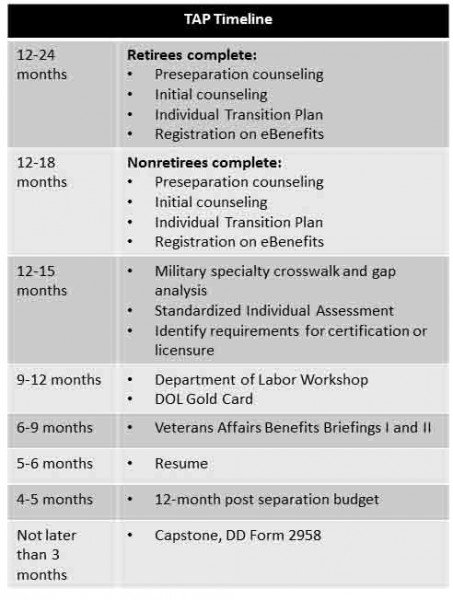 According to Jeff Wheeler, USAG Stuttgart's transition and retirement services administrator, every service member that serves or will serve at least 180 days of continuous active duty must complete the mandatory portion of the program.
"Spouses of service members are highly encouraged to attend as well," said Wheeler. "Transitioning from active duty is a significant life event that involves the entire family."
Wheeler also said Department of the Army civilians are allowed to attend if they are affected by base realignment and closure, a reduction in force or any other agency action that places a civilian in a position where transition is necessary. "And, we'll do our best to allow any ID card holder to attend as long as we have the space available."
Under the Veterans Opportunity to Work Act of 2011, or VOW to Hire Heroes Act, service members that serve at least 180 days of continuous active duty must complete three components of TAP. The Office of the Secretary of Defense added to that by issuing a policy requiring an additional 10 to 11 requirements to complete, dependent on each individuals transition plan.
"Besides law and policy, valuable information is provided that will help transitioning service members to make informed career decisions on how to prepare and plan for their eventual transition from military to civilian life," said Wheeler. "In Stuttgart we support all transitioning service members regardless of service to become 'career ready' and gain self-confidence by providing them with information, knowledge, skills, and competencies that most industries are seeking when recruiting and hiring."
TAP requirements
VOW Act
Preseperation counseling – Completion of Department of Defense Form 2648, "Preseparation Counseling Checklist for Active Component, Active Guard Reserve, Active Reserve, Full Time Support, and Reserve Program Administrator Service Members, or DD Form 2648-1, "Transition Assistance Program Checklist for Deactivating/Demobilizing National Guard and Reserve Service Members."
Veterans Affairs Benefits Briefing I and II.
Department of Labor Employment Workshop. This may be exempted for certain Service members.
 Career Readiness Standards established by the Office of the Secretary of Defense
Mandatory DoD-standardized "Individual Transition Plan."
Mandatory DOD-standardized, 12-month, post-separation financial plan.
Registration for an eBenefits online account at www.ebenefits.va.gov.
Continuum of Military Service Opportunity counseling for active duty.
Mandatory military occupational specialty crosswalk with a military-to-civilian skills gap analysis.
Identification of requirements and eligibility for certification, licensure, and apprenticeship in desired career field.
Standardized individual assessment tool.
Department of Labor Gold Card for DOL American Job Centers.
Completed job application package, or a job-offer letter.
Soldier for Life — Transition Assistance Career Track, in accordance with the ITP.
Mandatory "Capstone" which certifies the service members has met all the CRS.
 For service members in a deployed or in a remote location the Army provides Soldier for Life-Transition Assistance Program services through a 24/7 Virtual Center at www.sfl-tap.mil.