By Becca Castellano
U.S. Army Garrison Stuttgart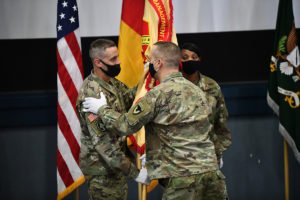 Like many who serve, Command Sgt. Maj. Billy Norman joined the Army in 1996 because he wanted to earn money for school. With a passion for cooking, he enlisted as an Army Food Service Specialist to gain experience and see if the culinary world was for him. What he discovered over the next 24 years was that while cooking remained a passion, the Army became his life.
"I thought about getting out several times around the six-to-eight-year mark," said Norman, who even went as far as applying for jobs. "I had two feet out the door, but I pushed through some tough years and I am super happy I did."
Over the course of his career, Norman has held a multitude of roles in 9 different units. Most recently, he assumed responsibility as U.S. Army Garrison Stuttgart's Command Sergeant Major during a live-streamed ceremony on Dec. 16. This marks his third tour as a command sergeant major and his second at the brigade level.
"I'm happy to have another opportunity to be part of a garrison as your CSM," said Norman, who PCS'd from USAG Japan. "It's our job to take care of people and make sure they have what they need to succeed. That includes our soldiers and their families but also the tenant commands, local nationals and civilians who keep us running."
"Taking care of people has been my mission since my first army job in a supporting role. If I can look around and see the people that I live and work with are happy and successful at the end of the day, I have achieved my goal," Norman said.
Upon arrival in Stuttgart, Norman entered quarantine before assuming responsibility. His time at home gave him an opportunity to learn the new installation.
"I've been observing and looking for areas I can help," he said. "I want to understand the new system so I can see where I can add to that. I learned at the senior leader level that there are many ways to get the job done so I'm open to learning how we effectively support the community."
Norman said he was impressed with the way the garrison has handled COVID-19 restrictions.
"Our garrison is on the ball when it comes to COVID" he said. "The fact that I could in-process from home was on another level and I'm excited to work with such a motivated team."
Norman described his role on the command team as the "eyes and ears of the commander" and said he hopes to act as a bridge between the community and the commander, to be a conduit for information, needs and ideas to flow through.
"I want to know what is going on. What are people liking, what are they struggling with and how can we help them," said Norman, who encourages the community to share their issues and concerns with the command team. "We can't fix what we don't know is broken. Utilize the tools we have in place to bring issues to our attention so we can engage and work on making our community the best it can be."
Norman said he will know if his time here has been successful when the people around him don't just know the garrison motto of "I'm glad I live here," but live it.
"Family is a strong part of my smalltown background and taking care of people has been my mission since my first army job in a supporting role. If I can look around and see the people that I live and work with are happy and successful at the end of the day, I have achieved my goal," Norman said.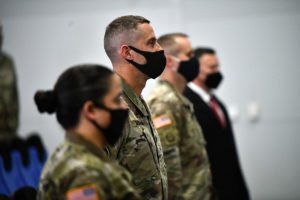 Q: Where are you from?
A: Riceville, Iowa. It is a small town of about 700. My graduating class had 50 people and it was considered big.
Q: How has your background as a cook prepared you to lead?
A: I like that my background comes from the support realm because it reminds me that everybody's job is important. We often take for granted those behind the scenes but its more than just the boots on the ground. Everybody has to do their part, including all the support aspects, to get the mission done.
Q: What kind of advice do you give to junior service members who want to succeed in the military?
A: Know your job and do it well. Focus on training others. My motto is, it's our job as leaders to train ourselves out of a job. We need to focus on preparing the next generation of leaders.
Q: What's been the biggest challenge you have faced in your career?
A: There's been a lot of challenges along the way. Personally, it's being adaptable as we move so much. Learning the ins and outs of different theaters, jobs, and organizations.
Q: What has been the biggest reward in your career so far?
A: The most rewarding achievement I had was when I got the call that I was selected for promotion to Sgt. 1st class. It was humbling to know that Army senior leaders saw that potential in me. It was a really exciting time.
Q: What are you most excited for at USAG Stuttgart?
A: It's a new challenge. A new theater, new experiences. I'm excited about being in Europe and being able to travel eventually. DEFINITELY EXCITED FOR THE FOOD.
Q: Where is the first place you want to go when COVID restrictions lift?
A: There are some local restaurants that I am excited to visit again. The food here is amazing, especially the Maultaschen.