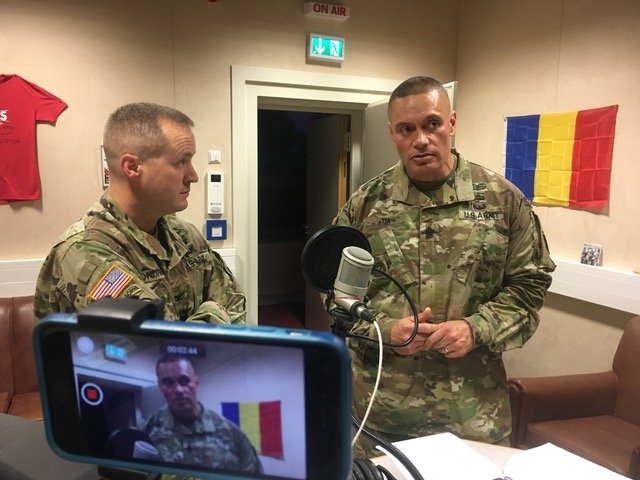 Col. Jason W. Condrey
Commander
USAG Stuttgart
I appreciate the community's concerns regarding my decision to keep schools and installation services open on Feb. 10.  I wanted to publicly share my feedback to a couple of concerned members of the community that submitted messages via our FaceBook page or the ICE process:
The garrison follows a deliberate process that, on most days, begins at 2 a.m. and involves all garrison service providers, emergency services both garrison and our host nation partners, the 21st Weather Squadron, Department of Defense Education Activity Europe leadership and mission partners. Every decision to close or limit services on the installation takes into consideration: community safety, host nation actions, service closure or delay impacts on mission units, and notification times.
Here's a closer look at the process …
Focus one: the safety of the community.  The two primary considerations are our children who walk or ride to school and our military and civilian workforce, 78 percent of which commutes from off-post to their place of duty.
The garrison controls road condition designation on post. We monitor those living off post. MP patrols around and between installations, report on road conditions and any hazards to traffic. We rely on our Polizei liaison in the garrison headquarters, plus translators to track Stuttgart road conditions where our patrols don't travel, using this site https://verkehrsmeldungen.polizei-bw.de. 
These efforts may not identify hazardous conditions outside of your homes, and thus rely on personal decisions regarding the conditions immediately surrounding where you live and along your route to the installation.
Focus two: The decisions of host nation school, emergency service and public transportation officials. Given that much of our workforce lives off the installation, host nation decisions regarding the closure of schools and halting public transportation are a leading factor in a garrison decision to close schools and services. Closures or delays, in either, have implications on our workforce and based, upon recent history, have been a last resort for the host nation.
Focus three: Impacts of closed or delayed availability of services on mission partners that have a 24/7 requirement across two continents, regardless of local weather conditions. I do not make decisions regarding the closure of mission partner headquarters here at USAG Stuttgart. However, I recognize that directing a delayed opening of schools or services amounts to a late report for our workforce. This may have significant mission impacts. This same consideration is also weighed when considering an early release of students or early closure of child care services.
Focus four: Time required for notification.  Our childcare workers and the military and civilian workforce who use Child & Youth Services – begin their commute as early as 5 a.m.  Similarly, our contracted school buses launch to be positioned for the first student pick-up which occurs as early as 6:30 a.m.  As a result, a decision made between 4 a.m. and 4:30 a.m. is necessary and may not account for changes in weather conditions afterward.
The current winter storm 'Sabine' 
What we did Sunday … with Storm Sabine approaching, the garrison team began discussing a potential closure at 2 p.m., to taking into account similar discussions taking place at garrisons across Germany.
At 8 p.m., we brought key stakeholders together for a decision brief.  At that time, Baden-Wurttemburg schools remained open with parents able to decide if their child would attend. Local transportation would remain on schedule, though the inter-city rail had been halted.
According to 21st Weather Squadron reports, the local conditions were not projected to be the same in Stuttgart as in other locations across Germany that had already made decisions to close.  At 8:30 p.m., I directed that schools and services remain open, pending any changes.  At 4:30 a.m., we looked at the conditions again and decided to remain with the original plan.
Our public affairs team posted on Facebook in the evening and again in the morning. We heard what the community said online and are taking your concerns into account.
Moving forward
For today … there is no planned early release from school or closure of essential installation services. The weather service is projecting the next front won't arrive until 5 p.m., and with school busses headed home this afternoon, all students should be home by then.
For tonight and tomorrow … downed trees, on and off the installation, may modify school bus routes and have impacts on commutes. We continue to monitor storm and road conditions for commuting today and Tuesday.
What we've learned … in the future we will look to our partners in the DODEA schools to send out emails to parents to clarify information regarding school reporting. We will also look to Alert and other notification processes to compliment Facebook and AFN.
Community updates will be posted this afternoon and evening on the USAG Stuttgart Facebook page and shared with AFN Stuttgart.
Meanwhile, if you see branches or debris in the roadway, please call the MP desk at 07031-15-3102. To report damages to on-post housing or other on-post property, call 07117-29-6200, 7:30 a.m.–4 p.m., or 07117-22-86115 after hours.
Our public works and emergency services personnel are hard at work now. We thank you for your patience and consideration as we move through the storm and the aftermath.